Food in Thailand
Just some of the food I have eaten (and in most cases, found delicious) in Thailand. Also check out the
photos
of Thai food.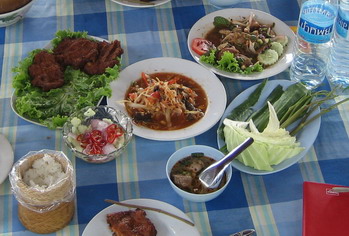 ต้มยำกุ้ง (Tom yum kung) – Prawns in spicy soup. The most popular soup for farang (foreigners) in Thailand; for Thai's it is just one of many soups.
ส้มตำ (Som tum) – Spicy papaya (paw paw) salad. There are many different types of this famous salad: som tum bpuu (with crabs); som tum bpuu bpalaa (with crabs and anchovy sauce); and som tum Thai (with peanuts instead of crab). This is most popular in Isaan (northeast Thailand), where it is eaten almost every day for lunch (usually with fried chicken) .
ผัดไท (Pad thai) – Fried noodles, usually with prawns. Again, popular for farang. There are also some shops that specialise in, and are famous for pad thai (e.g. in Rayong near Hat Mae Pim). [recipe]
หอยทอด (Hoi tord ) – Fried seafood with eggs. Normally served as an alternative to Pad Thai.
ต้มข่าไก่ (Tom ka gai) – Chicken in a coconut and galangal soup. One of the first Thai dishes I learnt to cook, and I still enjoy making and eating this soup. It is quite simple: basically galangal, lemongrass, lime leaves, coriander, chilli, fish sauce all in a coconut soup, and then add some chicken and mushrooms and you're done! [recipe]
หมูมะนาว (Moo manao) – Pork with a spicy lemon/lime sauce.
ปลานึ่งมะนาว (Bplaa nung manao) – Steamed fish with the same spicy lemon sauce.
แกงเขียวหวานไก่ (Gaeng keow waan gai) – Green chicken curry. It is famous in my circle of friends in Australia, and quite popular in restaurants. In Thailand it is obviously much tastier, and sometimes very spicy. But not necessarily an extremely popular dish. [recipe]
เกี๋ยวเตียว (Guai dtiao) – Noodles in soup. A very tasty soup, served with meat (e.g. pork, beef) or many other variants (e.g. tom yum). It is common to find a street stall that sells such soups – a quick, tasty, and cheap – 20 to 30 Baht – meal.
ผัดกระเพรา (Pad gra pow) – Fried basil and chilli (usually with pork, chicken or beef). Very popular and reliable – seem to be able to get it anywhere, and takes about 3 minutes to prepare.
ผัดเปรี้ยวหวาน (Pad bpriao waan) – Sweet and sour fried (pork/chicken etc.).
ลาบ (Laap) – Minced chicken (or pork/fish) …
ไก่อบวุ้นเส้น (Gai op woon sen) - Bean thread noodles (e.g. vermicilli) cooked with chicken.
ผัดผัก (Pad puk ) – Fried vegetables.
ไก่ย่าง (Gai yang) – Barbecued chicken. Very popular and simple – chicken wings with a marinade and cooked on a BBQ. Served on a skewer, they can be found at food stalls everywhere.
ข้าวผัด (Kao pad) – Fried rice, often with chicken, pork or prawns.
แกงมัสมัน (Gaeng massaman) - Massaman curry, from the south of Thailand.
แกงไตปลา (Gaeng tii bplaa) - Fish curry.
ไข่เจียว (Kai jeow ) – Omellete.
พล่ากุ้ง (Bplaa kung) - Raw prawns. Eaten with a mixture of lime, chilli, fish sauce, garlic and herbs.
ทอดมันปลา (Tod man bplaa) – Fried fish cakes. Its not too hard to find a street stall that cooks these fish cakes – simply a mixture including fish, curry paste etc, and deep fried while you wait. Can be eaten as a snack or accompaniment to a main dish.
ผัดเผ็ดกบ (Pad pet gop) - Fried spicy frog.
แกงจืด (Gaeng juud) - Tasteless soup. Well not actually tasteless, but not spciy like most other soups. Usually eaten in the morning with rice.
ปูผัดผงกระหรี่ (Bpuu pad pong gra lii) - Curry crab. Not the spciy Thai curry style, but with yellow curry powder.
Created on Tue, 17 Apr 2007, 5:09pm
Last changed on Mon, 07 May 2007, 2:42pm