Phad Thai
Notes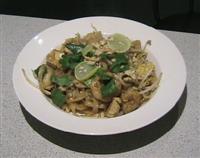 Preparation Time:
0.5 hours
Ingredients
100g fresh prawns
100g chicken
1/2 bag rice stick noodles (soaked and drained)
2 Tbsp peanut oil
1 Tbsp garlic (chopped)
4 Tbsp hard beancurd
1/2 Tbsp castor sugar
1 1/2 Tbsp tamarind
2 eggs
2 Tbsp chopped roasted peanuts
1 cup bean sprouts
1/2 cup spring onions (cut to 1 inch length)
1 tsp ground chilli
1 fresch lime, sliced for garnish
coriander leaves for garnish
1 1/2 Tbsp fish sauce
2 Tbsp tomato sauce
2 Tbsp dried shrimps
1 Tbsp seasoning soy sauce
1 Tbsp ABC sweet soy suace
Cooking Instructions
Heat 1Tbsp oil in a wok. Cook eggs quickly and take them out.
Add 1Tbsp oil to wok and saute the garlic, then add the beancurd, prawns, chicken and season with sugar, all sauces and 1Tbsp of peanuts.
Add the noodles, toss and cook until noodles turn soft.
Add the spring onions, chilli, eggs, bean sprouts and mix through.
Garnish with 1 Tbsp of chopped roasted peanuts, sliced lime and coriander.
Source:
Yukiko Anschutz, WEA instructor
Created on Sat, 25 Feb 2006, 4:20pm
Last changed on Sun, 03 Dec 2006, 4:22pm