Songkran (Thai New Year)
Songkran (สงกรานต์) is the
Thai New Year
. It is held 13-15 April every year. This year it fell on a weekend, and at the last minute the Thai government declared an extra day a holiday. Most people (including myself) stopped work from Friday 13th through to Tuesday 17th - a 5 day long weekend!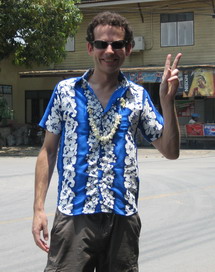 Songkran is perhaps best described by two activities: everyone going home to their families and soaking people with water. Bangkok is THE city in Thailand, with a population around 10 million (out of 65 million in Thailand), about 50 times larger than the second biggest city (Chiang Mai). A large proportion of the city's population come from the other 74
provinces
. This is evident to a small extent on weekends (e.g. at the Thammasat campus many staff and students that live in dorms go home for the weekend), and more so on long weekends. At Songkran, parts of Bangkok almost become a ghost town! On a campus of about 1000 acres normally housing several thousand people in dorms, during Songkran most of the food stalls shut, transport is harder to find and you are lucky to see a dozen people outside during the day. The biggest thing I noticed though was the number of people leaving the city. On Thursday night, heading back to the campus from the city on the main north bound highway, the 5 or 6 lanes were packed with busses, cars, pickup trucks (of course loaded with people on the back) and more bussues. I've never seen so many busses (nor so many busses with disco's on board)! The main activity of Songkran, besides meeting with family and religious acts, is soaking as many people as possible with water. On Friday, a couple of us went to Khun Nok's house in
Nakhon Pathom
province. It was a great time, meeting Nok's family again (we went on the houseboat in
Kanchanaburi
with them). The best part was on Friday afternoon when we headed into a small town to "play Songkran". We created our base outside one of the family's shop. Supplies were:
3 or 4 big coolers with a hose constantly filling them with water;
several 2-foot ice blocks in the water;
about 3 kilos of salt in one cooler (to slow the melting);
and plenty of water pistols (cannons?) and small buckets.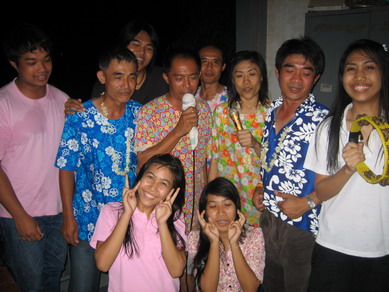 The same setup was at other shops around the street. The aim: soak anyone and everyone with water. But not only are there people on the streets, pick-up trucks drive up and down the streets loaded with about a dozen people and a 44-gallon drum of their own water. So the afternoon was spent in a massive water fight. Also plaster mixed with water was used to cover peoples faces. Back in Bangkok, on Sunday a few of us went to Khao Sarn Rd (the popular backpacker hangout in Bangkok, populated mainly by farangs during the year) to play Songkran again. This is the most popular place in the city to play, and to my surprise the majority of the people playing were Thai. The same aim, but now everyone is on foot. Again, a great time: it took about 5 minutes before I was soaked head-to-toe and if I didn't wash it off, I would have ended up with a 1 inch plaster cast over my face. Unfortunately it is too wet to take a camera, so I have no photos of playing Songkran, but a few of the time at
Nok's house
.
Created on Tue, 17 Apr 2007, 8:12pm
Last changed on Mon, 07 May 2007, 2:41pm