Makha Bucha in Kanchanaburi
Saturday 3 March was Makha Bucha day in Thailand. Its a celebration of an occasion when, by coincidence, 1250 Buddhist monks came from all over the country to hear Lord Buddha speak. As a result - a public holiday and long weekend (the holiday was shifted to Monday).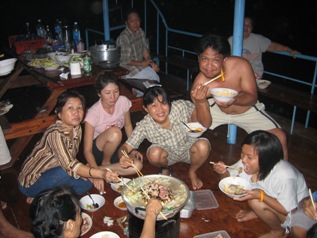 I was invited, as well as some of the guys from
tennis
, to join Khun Nok and her family on a houseboat in
Kanchanaburi
province. It turned out to be a great weekend, full of eating, swimming, cards, chats, relaxing and more eating. We (Sakib, Yoichi, Nyan Bo Bo - postgrads at
SIIT
; myself and Nok) left Saturday morning around 7am, meeting up with another 4WD load of family in Kanchanaburi city for breakfast. Then another family arrived, and on to the final destination -
Sri Nakarin
- a large reservoir about 2 hours (105 km,
map
) from Kanchanaburi city. We spent two nights on a Thai version of the house boat you find on the Murray River in Australia. By Thai version I mean, probably a little bit smaller, and mainly an open wood platform with roof and side walls/railings, as well as a deck area upstairs. Had two toilets and a shower. No rooms or windows - which is perfect for the weather (and the Thai style of living). The five of us from SIIT slept in tents upstairs on the deck, while the main area downstairs converted into a bedroom for 15 overnight.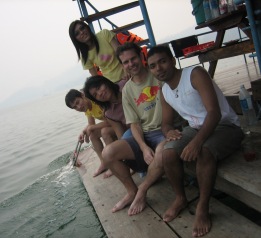 The people who owned the boat did all the cooking and cleaning, so life was pretty easy on-board. However Nok's family (cousins, brother-in-laws, nieces, ...) brought the food - about half a tonne of fresh vegetables, fruit and meat - for the 20 or so on board. Besides eating, we spent a lot of time swimming, playing assorted card games, personal grooming, gossiping and relaxing. It was a great long weekend (despite me getting blocked ears - perhaps due to the screaming of a certain person while swimming) and many thanks go to Khun Nok and her family for their hospitality. Check out the
photos
.
Created on Tue, 06 Mar 2007, 12:00am
Last changed on Mon, 12 Mar 2007, 12:23am