Public Transport in and around Bangkok
We have used 15 different types of transport over the past two days. A few photos of these modes of transport and the sights we saw along the way are available.
Friday - Bang Pa In, Bang Sai and Suam Lam
Universiade Van
As the University Games are being held at Thammasat Rangsit, the transport situation within the campus has changed significantly (as the Athletes Village is off limits). So around 9am we caught a Thammasat van from Asian Games Village to Thammasat University Hospital. About 10 minutes drive.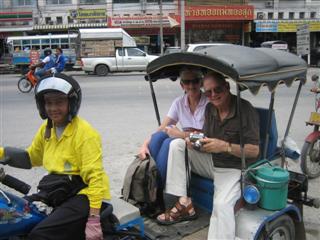 Taxi
We then got a metered taxi from the campus to the royal palace at Bang Pa In. It only took about 25 minutes - cost 120 Baht. The palace is quite nice, with not so many people (compared to the Grand Palace in the city).
Tuk Tuk (Bang Pa In Style)
Around midday we left the palace with the intention of going to Bang Sai Royal Folk and Arts Centre. However there were no taxis around and the centre of Bang Pa In was about 2km away (Bang Sai another 15km). So we get two motorcycle tuk-tuks to the centre of Bang Pa In. Cost 20 Baht per person (Mum and Dad were on one, I was on the second tuk-tuk). These style of tuk-tuks were a bit like the large 3 wheeler motorcycles.
Songtaew
We caught a songtaew, which is a pickup truck with seats and cover on the back, to Bang Sai. Cost was 16 Baht per person. This was an interesting trip manily because we didn't know where we were going. I had been to the Folk and Arts Centre before but this was from a different direction. But one of the other passengers guessed where we were going and gestured to us when to get off.
We got some food at Bang Sai (noodle soup, this time Mum and Dad enjoyed it, maybe because pig blood was added) and wandered around the traditional Thai houses and craft works. Again, a nice place to go, perhaps better on the weekend when more food places are open.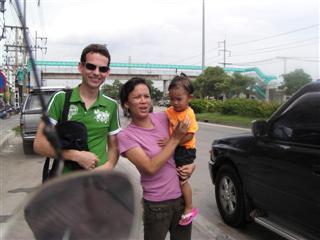 Police private car
The problem with Bang Sai is that it is on a main road in the middle of nowhere (well, its only 20km from Thammasat, but not in a town). So there are no taxis around (and it is difficult to get one to come and pick you up). So we started walking down the main road to a bus stop about 1km away. This was not much fun because it was 3pm, hot and I knew it could take at least 30 minutes for a bus to come, another 1 hour to get near Thammasat, and we'd need to then get a taxi to get to our dorm. After walking about 300metres we noticed a pick-up truck slow down while driving past, do a U-turn and come back to us. He offered us a ride. With his little bit of English, and my little bit of Thai, we worked out where to go. He was an off-duty police officer, and was with his wife and daughter. For 300 Baht (about 3 times the cost of a taxi for the same distance, but well worth it) he drove us back to Thammasat in about 25 minutes. It was our lucky day.
Yellow Trolley Bus
There are free trolley buses around Thammasat Rangsit campus everyday. With Universiade on, the schedule and routes are slightly different, but we managed to get one to within 10 minutes walk of our room.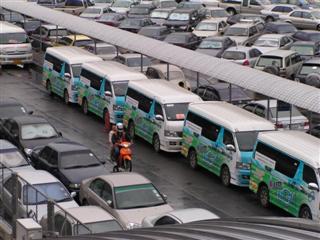 Thammasat-BTS NGV Vans
There are regular (about every 10 minutes) vans from/to Thammasat to/from Mo Chit BTS/MRT, via the tollway, everyday from 6am to 10pm. This is a very convenient and fast way to get into the city. Cost 30 Baht per person, for a 30 to 40 minute trip. We caught one about 7pm to head into Suan Lum Night Bazaar for dinner.
MRT Underground
The underground train, combined with BTS Skytrain, are the best ways to get around central Bangkok. Fast and regular (running up to about midnight), we went from Mo Chit to Lumphini in about 15 minutes for 45 Baht each.
At the Suan Lum Night Bazaar we found an upstairs restaurant to eat and drink at. It was good food, but can't remember the name.
Tuk Tuk (Bangkok Style)
After dinner, we headed to Patpong for a quick look. This time by the normal city tuk-tuk, about 5 minutes for 80 Baht.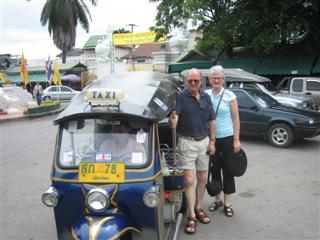 BTS Skytrain
Around 11:30pm we caught the Skytrain from Sala Daeng to Mo Chit for about 40 Baht per person (25 minutes). Then a taxi back to our rooms.
Saturday - Ayutthaya
Public Bus
After a catching the Thammasat Universiade van from our dorm to Interpark, we got on a public bus to Future Park. Cost 13 Baht per person for a 30 minute (12km) trip. The reason for going to south 12 km to Future Park? To catch a bus north 60 or 70km to Ayutthaya.
Mini-van
Future Park is a major stop for intracity and intercity transport, especially buses and vans. We intended to get an intercity bus to Ayutthaya, but quickly found a mini-van that left within 5 minutes. 40 Baht per person for a 45 minute trip.
Tuk Tuk (Ayutthaya Style)
Another type of tuk tuk in Ayutthaya. Actually really looks like a miniature songtaew, with parallel bench seats in the back. We paid 500 Baht for about 3 hours to 3 different sites around Ayutthaya.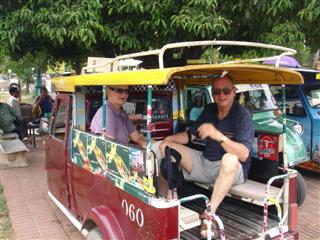 Intercity Bus
Busses are the main form of transport for travelling between cities/provinces in Thailand. We got the Ayutthaya-Bangkok bus back to Thammasat, at a cost of 50 Baht each - about 50 minutes.
Motorcycle
And finally, after getting dropped off at the edge of the Thammasat Campus (but across the road) we got some food for dinner and then caught a motorcycle back into campus. About a 2km trip, for 20 Baht per person. We had two pillion passengers on each bike, so it was a tight fit. Mind you, I have seen up to five people on a motorbike (e.g. mother, father and three children). This is a convenient way for travelling short distances quickly, avoiding most traffic jams. Its also exciting, riding along a 12 lane freeway with no helmet and three people!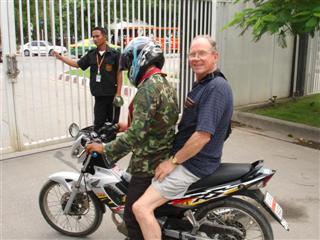 Created on Sat, 04 Aug 2007, 12:00pm
Last changed on Sat, 18 Aug 2007, 6:01pm