Prince D'Angkor Hotel, Siem Reap, Cambodia
Mum, Dad, Wan and I stayed in
Prince D'Angkor Hotel
for 4 nights in August 2010. I booked it online just over a month before our stay (I remember because there was a discount for booking 30 days early) through
Agoda
for $AU75 per room per night.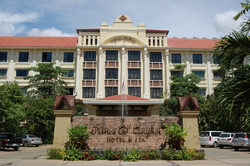 Rooms
The rooms were impressive, with a good location (ground floor with outside doors facing the garden and pool), a 4-post bed and large bathroom with both shower/bath and a 2nd separate shower. There were a few large chairs/seats and plenty of room for bags. The arrangement however meant it was a bit crowded when 4 of us sat around. The TV had almost a 100 channels – the only problem was that only one person lying on the bed could clearly see it because the bed post obstructed the view of the other.
Swimming Pool
The pool was great. Large, very clean (tiled floor and walls made it look and feel much better than other pools, such as the excellent pool at
Felix River Kwai Hotel
), and in a nice environment (a large blue pot plant sat on a wall to the spa bath, as if it was floating in the pool). Our rooms were literarally 10m from the pool and we used it each afternoon. The water was on the warm side (it is hot in Cambodia in the afternoon) but it was still very refreshing, especially after hours walking around the wats.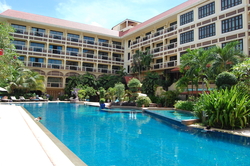 It is a salt water pool. When you first get a mouthful you realise it, but other than that it didn't really matter. Much better to open your eyes under water when trying to do a handstand. There is a large jacuzzi/spa next to the pool, as well as a shallow pool for children (which interestingly, when you turn on the spa, two water features spurt water into, providing a fright to anyone in there). Deck chairs surround 3 sides of the pool with some shade and/or umbrellas, and there is also an outdoor bar with seats (which we didn't use). Finally there is a gym but again I didn't go near except to collect towels.
Food and Drinks
We only ate breakfast (included in price) at the hotel. There was a large selection like most hotels of similar level in Thailand. Fresh breads and for toast, croissants, cakes. Bacon, ham, beans, egg station (fried or omelet), tomatos etc. Several Asian dishes (fried noodles, stir-fried meat/vegies). Cereal and yoghurt. Noodle soup (guaytiaw). Fresh fruit. Most of it was quite tasty – probably better than what I can remember from other hotels,
Felix River Kwai Hotel
and
Centara Duangtawan
in Chiang Mai. If you can't find something you like then you sure are fussy. The only problem was I always ate too much. The room service menu had most items you'd expect with meals about $US5. We bought beers and snacks across the street from a small supermarket.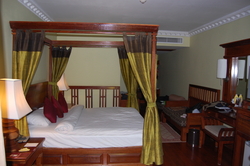 Location
So long as your around the central area, which Prince D'Angkor Hotel is, as opposed to out on the highway, location is not a problem in Siem Reap. Its quite small, with most things within walking distance or a cheap tuk-tuk away. The hotel is about a 15 minute walk to Bar Street (the main restaurant and entertainment area, also location of Old Market). Generally we caught a 5 minute, $US2 tuk-tuk there and walked home at night. Like all places in Siem Reap, its a 10-15 minute drive to the entrance of Angkor. Across the street from the hotel is a small supermarket selling everything a foreigner visiting Cambodia needs. In fact, it had a larger selection of foreign produce (cheeses, wines, beer, cold meats, chocolates, breads) that I've seen in any supermarket in Thailand (and all much cheaper). The cost of spirits especially
impressed me
. There is a small bakery (selling Thai style breads and cakes, but unfortunately not the fresh baguettes available elsewhere in Siem Reap), a popular Indian restaurant (called Curry Walla) and a few other food places surrounding.
Summary
Highly recommended for the pool, nice rooms and central location. It is a large hotel with potentially a lot of tourists (although not busy while we were there) so don't expect unique, personalised service. But if you are touring Angkor Wat its a great place to return to for an afternoon swim and get a relaxing sleep for the next day.
Created on Sat, 18 Sep 2010, 10:56pm
Last changed on Sun, 19 Sep 2010, 7:08pm