Felix River Kwai Resort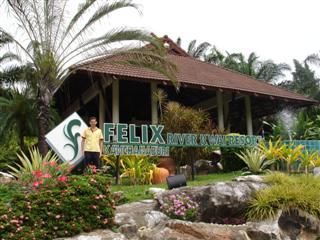 We stayed at the
Felix River Kwai Resort
in Kanchanaburi for three nights in August 2007, over the Queen's Birthday long weekend. This was perhaps the most upmarket hotel/resort I've stayed in in Thailand, and I was impressed. However we only paid
AUD60
per room, per night via
Asiarooms.com
. The resort is located within walking distance of the famous bridge over River Kwai, which is a couple of kilometres from the town (not within walking distance). Because of the convenience and time, we caught a taxi from Thammasat Rangsit to the resort. This was 150km, and took about 2 hours. The agreed upon price was
1500 Baht
one way (on the meter the price was about 800 Baht). The taxi driver also agreed to take us back (he drove from Bangkok to pick us up!). The alternative to a taxi was to travel to the
Southern Bus Terminal
(
English
) in Nonthaburi (probably a 1 hour trip), catch a bus to Kanchanaburi (2-3 hours) and then a taxi from the town to hotel (10 minutes). For four people, the bus option probably would have cost 800 Baht and obviously take an extra hour or two.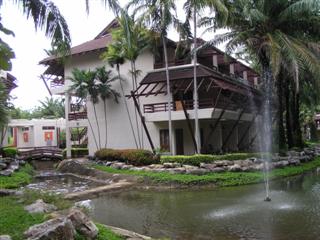 We had a standard, garden view room (the cheapest), and it was excellent. Quite large, with king bed, wooden floor and furnishings, large bathroom with bath/shower, and all the standard 3/4 star hotel facilities. The front opened out onto two deck chairs looking over one of the many ponds around the resort. We ate at both the Brasserie and the Chinese Restaurant and the food was good. The Chinese restaurant was slightly more expensive, but for us each meal, including a couple of drinks, cost around
400 Baht
per person. I liked the Brasserie better, as it had better atmosphere and service. Both were good to eat at, but of course
hotel prices
(for example, we ate at a restaurant on the river on the other night, and got similar food, slightly worse service, good atmosphere, and the cost was
200 Baht
per person). The breakfast was excellent, plenty of selection of Thai food, toast and breads, cereals, eggs and bacon, fruit and so on.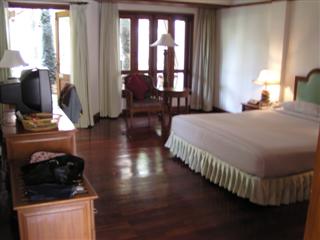 The resort has a nice layout, with buildings separated by many walkways, streams and ponds. And of course, right next to the River Kwai. There are plenty of facilities available (most at a cost): tennis, bicycles, snooker, karaoke, pub/bar, fitness centre and, the one we used the most, the swimming pool. In fact there are two swimming pools: a very large leisure pool and a 25 metre lap pool. We made an effort to finish tourist activities early (3-4pm) to get back to the pool. It was excellent, and included a couple of small basketball hoops (and plenty of balls), swim-up pool bar, waterfall and enough deck chairs. Even when it was busy (4-5pm), it didn't seem too crowded. Like most of the resorts/hotels around Kanchanaburi, the Felix was not close to the town. Unless you have a private car, you may need a taxi or hotel shuttle van (80 Baht per person) to get to the town. But luckily, the bridge is a 10 minute walk from the resort! You can walk to and across it - on the other side are plenty of shops and tourist activities, so very easy to get songtaew, motorcycle or taxi there. Or to eat there. We walked every day, even coming home from a restaurant one night, we walked across the bridge in the dark and back to the resort. Overall, I was very impressed with the Felix Resort, and would recommend others to stay there (especially at the price of AUD60).
| | |
| --- | --- |
| | |
Created on Mon, 13 Aug 2007, 7:10pm
Last changed on Sun, 19 Sep 2010, 7:08pm