Hilton Arcadia at Karon Beach, Phuket
From 27 to 30 November, Wan and I stayed at the
Hilton Phuket Arcadia Resort and Spa
in Karon Beach, Phuket. I was attending a
conference
at the hotel on Monday and Tuesday, so we decided to take advantage and have a mini-getaway.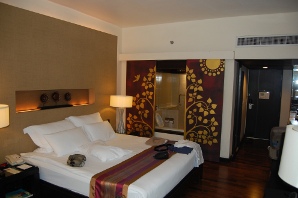 Location
From Phuket International Airport, Karon Beach (and the hotel) is about a 45-60 minute taxi ride (600 Baht). Karon Beach is about 3km long. At the northern end there is a big roundabout and a road going inland with many restaurants. We ate here two nights. At the southern end up a small hill are a few more restaurants, and then it becomes Kata Noi. We ate here one night, and also played mini golf. The Hilton Arcadia is about in the centre of Karon Beach road. From Karon to Patong, the main entertainment area of Phuket, it is about a 15 minute taxi ride (300-400 Baht).
Hotel Facilities and Grounds
The hotel is spread over a very large area, going from beach road back to a rear road. The main driving entrance is actually from the rear road where you are dropped off at a welcoming centre. This is about 500m away from the lobby and hotel buildings. There is a shuttle bus that regularly does the rounds from the welcome centre to the lobby. We actually walked this once: there are some nice grassed areas, ponds and exercise equipment, but no-one seems to make use of it. There are 4 or 5 separate buildings for the rooms, lobby and conference facilities. There are 3 swimming pools, all quite large and looked to be popular. However I only used one, and only briefly as with a strong breeze and in the shade, it was actually quite cool. We used the beach instead. There are all the standard facilities (gym, restaurants) but we didn't use them.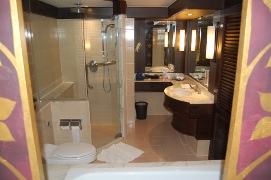 The Room
We stayed in a King Guestroom Garden View room. The cost, discounted for the conference, was 4370 Baht per night (inclusive of taxes). All the expected facilities were available: bathrobes, tea/coffee, separate bath and shower, desk and chairs, table and chairs on balcony. The room was good, but not much better than other places that cost less than 2000 Baht a night (e.g.
Felix River Kwai
). An interesting point was on a wall of the bedroom was what initially looked like a large painting, was in fact sliding frames that opened up to the bathroom. At the middle of the night you could roll out of bed, step of the bath and you were on the toilet. Very convenient. The highlight of the room though was the bed, and especially the pillows. They were so good that I wanted to find the brand and buy some for home (but forgot!).
Karon Beach
The beach is about a 5 minute walk through the hotel grounds and across beach road. There are deck chairs all along, costing 100 Baht each. It wasn't too crowded when we were there. There are several shops selling food and drinks if you need. The beach goers are tourists (I guess mostly European) from the nearby hotels. That means, instead of Thais at beaches where entire families in jeans and t-shirts are frolicking in the water or staying in the shade, Karon beach was full of white people wearing g-strings and sunbathing topless. The beach and water are clean. There are few waves, and no jet skis or other activities (at least where we were). It was good to relax.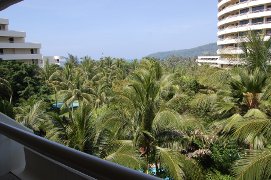 Surrounding Places
As the hotel grounds are so large, and are neighboured by other large hotels, there are no shops directly surrounding the hotel. A 10 minute walk south along beach road brings you to some small shops and market, including a family mart where you can stock up on beer, wine, chocolates and other Western delights. A further walk of about the same duration (and up a hill) takes you to a set of restaurants as well as
Dino Park Mini Golf
. We had a round one night: all but the last of the 18 holes were quite easy, with few interesting challenges. But it was a bit of fun. In the northern direction of the hotel its about a 20-30 minute walk to the roundabout and the popular restaurants of Karon. Actually along the way there are a few shops, restaurants and hotels as well. The first night we ate at
Las Margaritas
mexican restaurant. It was ok: the margaritas were refreshing, while the burritos and tacos were acceptable. The cost was about 200-300 Baht per dish. Another night we ate at one of the many seafood restaurants, which again was nice. At lunch one day we found a som tum/gai yang shop, and got our only dose of real Thai food for the trip. Patong is the centre of nightlife and entertainment in Phuket. We went there on two nights. On both occasions we found a pool hall and played some pool for an hour or so, then spent the rest of the night at
Rock City
. It is at the (non-beach) end of Bangla Road. There are multiple bands covering hard rock and heavy metal. Its free entry, beers are 140 Baht (small Singha) and goes all night. We only stayed for a couple of hours, seeing just two bands, but still my ears were ringing the next day. That brought back memories of local bands and BDOs in Adelaide.
Cost
Karon Beach, probably similar to other parts of Phuket, is very much oriented towards tourists. It seems middle-aged to older Europeans frequent Karon the most. As a result, everything is expensive. The hotel room was very expensive: I wouldn't have stayed there if the conference wasn't held at the hotel (or if work was not paying for part of it). As most restaurants cater for Westerners, the food is rather bland and also expensive. Finally, getting around is not cheap. Tuk-tuk's up and down the beach road are 150-250 Baht. We walked most of the time, but that can get tiresome in the hot weather. If you want to go to Phuket, then its another 600-800 Baht (return). So for someone coming to Thailand for the first time, wanting a quiet beach, comfortable hotel and regular food, then Karon and Hilton Arcadia are ok. However if you've been a few times before, and want to experience the Thai life, then Karon is not for you.
Created on Wed, 22 Dec 2010, 10:58pm
Last changed on Thu, 23 Dec 2010, 7:57pm