Brenton and Steve in Isaan
My friend Brenton is visiting Thailand again, this time with a group of his friends from Japan. For the first few days of his trip he made plans to go to several tourist attractions in the provinces of Khorat (
นครราชสีมา
) and Buriram (
บุรีรัมย์
). Once I knew Brenton would be travelling alone for these three days, I decided to keep him company. This is an overview of our trip, starting Friday 21 December 2007 and ending on Monday 24 December.
Photo Gallery
(note that the good photos were taken by Brenton - more of his pics can be found in his own
Picasa gallery
).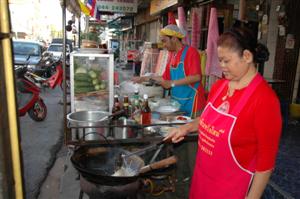 Bangkok to Khorat
The first task was to get to the city of Khorat on Friday. Bus was the obvious option, and it worked out fine. We got to the Northeastern Mo Chit Bus Terminal at about 11am on Friday. (See the
The Transport Company
, which has schedules for the different stations. Although the main site is in Thai, you can hover over the links to see the English pages to find the schedule, or go to the old
English version
of the site.) Walking into the terminal and you see 30 or more ticket booths, all with signs in Thai. Although I can read some Thai, it is not easy to scan through the entire terminal looking for one place name. Luckily for us, of the few signs with English names,
Khorat
was one of them. The fare was about
250 Baht
each, and we were left by 11:30am. After a bit over three hours, we got to the centre Bus Station in Khorat. (There are two stations: 1, which is the small, old one closer to the centre of town; and 2, the big, newer station about 5 minutes north. Our bus went to station 2 first, and then terminated at station 1).
Khorat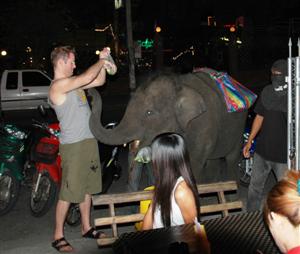 Brenton had read about
San Sabai House
, and had it located on a map: 5 minutes walk from the bus station and we find it. A standard room with Air Conditioning and hot water was
350 Baht
. Although the hotel next to San Sabai was slightly cheaper, we choose San Sabai as it was newer and the lady at the front desk was helpful and spoke excellent English. They are building a new cafe, which will make it even better, so I recommend San Sabai House if you are after a cheap, comfortable room. After dumping our bags, we explored Khorat by foot, walking east to where the main city monuments are around Ratchadamnoen Road and Chumphon Road, and then further east along Chom Phon and Mahat Thai Roads. After an hour or more walking we decided to look for the only other place we had heard of in Khorat: Dok Mai Cafe. We knew it was somewhere around Chai Narong Road. At about 5pm we found Balu's German Restaurant and Beer Garden (see
Mike Newman's Restaurant Guide
for address) and sat down for our first beer. We were the only two customers in a big, relaxing garden and enjoyed several large bottles of Singha for
85 Baht
each. And we also found out that Dok Mai Cafe was just two buildings away! There is a very small Night Bazaar in Khorat that we explored for about 30 minutes, and then returned to Dok Mai Cafe for a pretty good dinner: Laap and Fish Cakes fried with Basil. Then it was a few more beers here and at the nearby pub (called Faraway) for a good night out.
Phimai Historical Park
By about 9am we were on our way to the Khorat Bus Station 2, and caught a bus to Phimai. It was about a 1 hour trip. The two small problems we encountered were: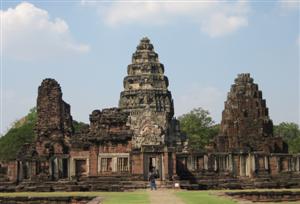 We didn't know exactly where to get off the bus. But luckily as we entered a town we say the sign Phimai, and more importantly went past the ruins - hence we got off the bus at the next stop (which turned out to be the best stop).
Getting off the bus was not easy, as we were sitting about mid way along the bus and the aisle was full with passengers standing. And Thai busses are not easy to manoeuvre in - low roofs mean Brenton and I cannot stand up straight, and the aisles are narrow. Luckily someone else got off as well, so we follow them down the aisle, almost squashing a few poor passengers along the way.
Phimai Historical Park is home of Prasat Hin Phimai. From the brochure: Prasat Hin Phimai is one of the biggest and most important religious sanctuaries found in Thailand. It was built around the 11th to 12th century A.D., and additions were made during the 13th century A.D. Around 3pm we caught a bus back to Khorat, arriving at 4pm, then a quick trip to the San Sabai House to collect our backpacks, then back to Bus Station 2, Khorat.
Khorat to Nang Rong
The next leg was to head to Nang Rong, a town in the province of Buriram (
บุรีรัมย
). The main reason for going to Nang Rong was so we could easily visit
Phanom Rung
(
ปราสาทพนมรุ้ง
), a Khmer ruin from the 10th century.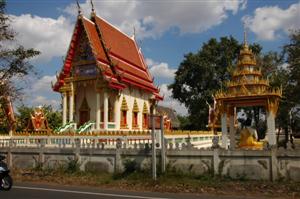 The trip was about 2 hours by bus. When we got on at Khorat we got the last two seats: well, squeezed into the back row which now had 6 people. We were lucky - many others got on along the way, standing up in the aisle for two hours. Again the problem of getting off the bus (this time from the very back and past an aisle full of guys) was a concern, especially as we didn't know where the Nang Rong stop was. It turned out ok, as we pulled into a bus station and most others got off at the same time. Not really knowing where the Honey Inn was (this was the only accommodation we booked - check out the
review
), a guy at the bus station pointed the general direction. We walked about 50 metres then stopped at a convenience store for some snacks. Luckily one of the five foreigners living in Nang Rong (Harald, from Germany) spotted us and gave us detailed directions to the Honey Inn. After a couple of beers with Harald, our journey continued on to the Honey Inn, for a shower and then to check out Nang Rong.
Around Town in Nang Rong
We arrived in Nang Rong about 7pm on Saturday 22 December. It was a long weekend, with Monday a holiday so that people could go home on the weekend to vote in the Thai elections on Sunday. As part of the elections, alcohol is prohibited from sale from 6pm the night before the election through to midnight of the election (effectively all the time we were in Nang Rong). The practical impact: beer was not available in 7-Eleven, but was in the smaller convenience stores, and the pubs/bars were closed or empty. After dinner, we tried to get a beer in a large beer garden/restaurant on the main road. They had a large projector screen and several smaller TVs showing soccer - but no customers. We sat down and ordered a beer. Not allowed. After some friendly banter with the waitresses, and a few more attempts we finally got a beer. However, it was 9:30pm and they were closing at 10pm! So we headed back to the convenience store to collect a few more tinnies to take back to the guest house. But we dropped into the beer garden on the way back, and ended up drinking there, watching soccer and knitting for a couple of hours.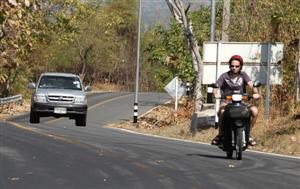 It turned out there weren't many other places in town (that we found anyway), so spent Saturday night at the beer garden as well. This time beer was allowed (although officially sales were closed until midnight, the election was over by 6pm), and there were plenty of customers. We also ate dinner there, with one dish being an extra spicy Thai salad (Som Tam) - one spoonful was enough to bring both of us to tears for a good 10 minutes.
Phanom Rung and Muang Tam
Phanom Rung
is a Khmer ruin on top of a volcano about 20km from Nang Rong. Getting there on public transport was not easy - bus to a nearby town, then try to find a motorcycle or songtaew to take us up to the top. So after some convincing (that is, Brenton convincing me not to be a coward) we hired a motorcycle each and made our own way. 250 Baht per bike from the Honey Inn (plus about 50 Baht in fuel at the end of the day).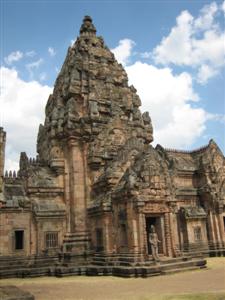 This is my first time
ever
riding a motorcycle by myself, so I was a little nervous (I had ridden a 3-wheel motorcycle on the farm when young). It was a 100cc, clutch-less, manual. (Some people call that automatic - but it had gears that I had to change, unlike some of the fully auto bikes around). Although there was a bit of traffic on the main road in the Nang Rong, the roads had plenty of room so this was a good place to learn. After a while I really started to enjoy the riding. Just need to stop putting my feet on the ground to slow down (like on the bicycle). I'm happy I gave it a go, because now I'm confident to get a motorcycle in other places (except Bangkok!). It was a nice ride up the volcano to see Phanom Rung. The ruins, although not comparable to Angkor Wat in Cambodia, were impressive. On the other side of the volcano was Muang Tam, a small town with more ruins. Again, worth the trip. I recommend people who have some time in Thailand to make there way out to Nang Rong to visit these places, and enjoy the quieter (and down-to-earth) side of the Land of Smiles.
Nang Rong to Bangkok
Monday morning was up early (7am) and off to the bus station. After some BBQed chicken for breakfast, it was a 5 hour bus trip back to Bangkok. The end of another Thailand adventure! Next week - Hua Hin.
Photo Gallery
Created on Mon, 24 Dec 2007, 8:01pm
Last changed on Mon, 28 Jan 2008, 11:22pm