Around Adelaide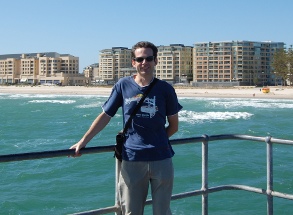 On arrival to Australia, we had four nights in Adelaide, staying in the city at the Country Comfort Motel on South Terrace. Adelaide is a quiet city. Although the population is about 1 million, the centre of the city is small and everyone is quite laid back (to the extent that the city is almost dead on weeknights and Sundays).
Staying on South Terrace, within 5 minutes walk of King William Street is great because there is a free tram running from South Terrace to North Terrace during the day. Most shopping, cultural and entertainment venues are near North Terrace. Some of the things we did while in Adelaide included:
Shopping (or at least window shopping) in Rundle Mall
Visited the South Australian Museum (free entry)
Wandered down North Terrace admiring the statues and old majestic buildings, and through Adelaide University to the River Torrens
Lunch and shopping in the Central Market, which includes Chinatown and some good Asian grocers
Tram to Glenelg Beach
Coopers Pale and Sparkling Ales, as well as red wines at the Austral and Exeter on Rundle Street
Dinner at the Red Ochre Restaurant (see me separate review), as well as at pubs and restaurants around Adelaide
On Friday we borrowed Brentons Pajero and drove up to Cleland Wildlife Park. Here is a great collection of Australian animals, most of which you can get close to and feed. We saw: kangaroos, koalas, Tasmanian devils, emus, echidnas, bandicoots, wallabies, wombats and all sorts of birds. There is also a snake farm. Well worth a visit if you are in Adelaide.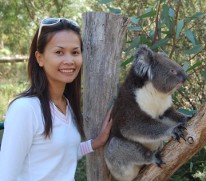 On Saturday morning Mum and Dad arrived in Adelaide and we all went up to Barossa Valley for some wine tasting. The first stop was Chateau Barossa, a new winery built by the guy who owned Chateau Yaldara. The wines were not special, but the highlight was the large rose garden outside. It was opened by the Queen Elizabeth II on here previous visit to Australia. Lunch was at a snack shop in Tanunda (Wan tried a Hamburger with the lot and was full after 1/3 of it). Then on to Jacob's Creek Winery which had some nice wines.
Back on Adelaide we had dinner at the Gilbert Hotel. It was great food and atmosphere until I noticed the last couple of mouthfuls of my chicken schnitzel was uncooked. Not sure how much of it was uncooked but luckily there were no side effects the next day.
On Sunday we made our way to Mum and Dad's home in Kongorong near Mt Gambier (about 450km south of Adelaide).
Created on Thu, 26 Mar 2009, 6:08pm
Last changed on Fri, 08 May 2009, 6:20pm