Top 3 Things I Hate About Thailand: 2 – Beer at Thammasat
I don't hate beer. I don't hate Thailand beer (the main brands being Singha, Leo and Chang - in English) . I hate the lack of access to beer in Thammasat University.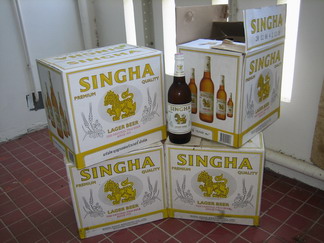 Simply put: the sale of beer in Rangsit campus of Thammasat University is not allowed. I assume this is an official University policy, but could also be an official agreement between the University and the variety of commercial outlets on campus. This includes the four or five cafeteria style eateries, the three 7-Eleven's and the three or four restaurants. The main inconvenience of this (and the thing that I hate) is that:
I cannot walk 3 minutes to my nearest 7-Eleven and get a cold beer (nearly all other 7-Elevens and similar convenience stores sell alcohol).
I cannot buy a beer with a meal at one of the several restaurants I have eaten at. This is especially desirable when enjoying a spicy Thai meal after playing a couple of hours of tennis.
So do I go without beer? Of course not! When going to Future Park I usually buy a dozen (630ml) long necks of Singha Beer, meaning with a bit of planning, I've almost always got beer in my fridge. The main problem with buying at the supermarket is that I always seem to be shopping around 3 or 4pm. Alcohol cannot be sold between 12noon and 5pm (as well as sometime in the morning). On several occasions I've found myself with a trolley load of groceries waiting for the time to turn Beer O'clock.
There are a few of other options for close access to beer. At Interpark, an area of restaurants and food stalls around two independent dormitory buildings just outside the campus grounds, you can purchase alcohol from the Family Mart convenience store. And across the road from there are several nightclubs, all of which sell alcohol (but it is rumoured that these will be shut soon, due to their proximity to the Uni). And of course, the neighbouring Asian Institute of Technology (AIT) does sell alcohol. But these are all a 5-10 minute bus or motorcycle ride from my room. The most promising option though is just across the road/canal from my dorm, in the small village at the north of the campus. I haven't ventured there yet, but apparently there is one small shop that sells alcohol. When I run short in my room, I will be giving it a try.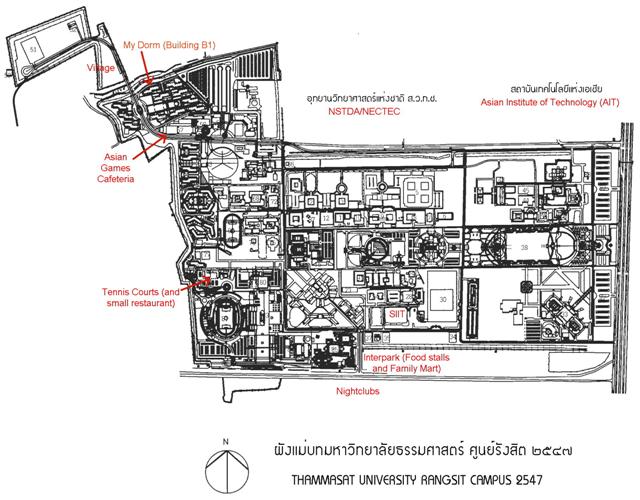 Created on Tue, 20 Feb 2007, 11:29pm
Last changed on Sun, 25 Feb 2007, 11:31pm