Thai Drivers License in Pathumthani
Today I finally got my Thai drivers license. For the past two years I've been driving with my Australian license with an International Driving Permit. The permit only lasts one year (I was lucky enough to be back in Oz to renew it last year). Driving with the permit is legal and hasn't caused me any problems. The 4 or 5 times I've been stopped at check points, the police have not had any queries about it. However both my Australian license and permit are due to expire soon, which motivated me to go through the steps to get the Thai drivers license. Here's what I had to do.
Documents Required
As I have a valid International Driving Permit, there is no need for a (written or practical) driving test. The procedure for getting the Thai license is taking the correct documents to the Department of Land Transportation (
DLT
), completing a colour-blindness, reaction and depth perception test, and thats it. The
Driving in Thailand
website gives an excellent run-down of what is needed. This is what I took:
Australian license and International Drivers Permit. They both must be valid. You need the orignal plus 1 signed photocopy of each.
Work permit, as a verification of my address. Photocopies of the pages with printed information about you (address, employer etc.)
Passport and photocopies of: personal details, the white arrival card, latest entry stamp, and current non-immigrant visa stamp.
Health certificate. I got mine at Krung Siam St Carlos Medical Centre on the weekend. It cost 160 Baht and the checkup involved: a sight test (the typical read a row of numbers with one eye shut); colour-blindness test (read a number, printed in dots of one colour, surrounded by dots of another colour); measure of blood pressure, weight and height; and a question from a doctor if I suffer from epilepsy. In total, they took about 15 minutes, plus a good hour and a half waiting.
A translator (Wan was nice enough to come with me)
The signed photocopies of all the documents (except health certificate) are necessary. The people at the DLT mainly looked at the copies, not the originals. Photos are no longer needed - they take a digital photo of you there and immediately print it and attach to your license.
Getting to the DLT in Pathumthani
There are in fact two DLT's in Pathumthani. The main office in Lat Lum Kaeo, and another office in Klong Luang. Some friends had been to the office at Lat Lum Kaeo, and so I decided to go there. (Out of interest, the office in Klong Luang is, according to these
two
posts
, at the Inland Container Depot in Klong 4. It can be reached by going east on Klong Luang Road until the Eastern Ring Road, but going left along a local road. Although I haven't been yet, I think this is it on
Google Earth
). To get to the DLT in Lat Lum Kaeo, travel west on Pathumthani-Rangsit Road (number 346), crossing the Chao Praya river. About 3km from the Chao Praya river is a set of traffic lights at a T-junction. Go right (left takes you into the main business district of Pathumthani town), and then turn right at the next set of a traffic lights (this 2nd set of lights are 5km from the Chao Praya river). The DLT is on this small soi: there is a government building about 200m on the right which is NOT then DLT; another 200m is the DLT on the right (there are some small food and copy shops on the left). See the map below or the find it on
Google Earth
.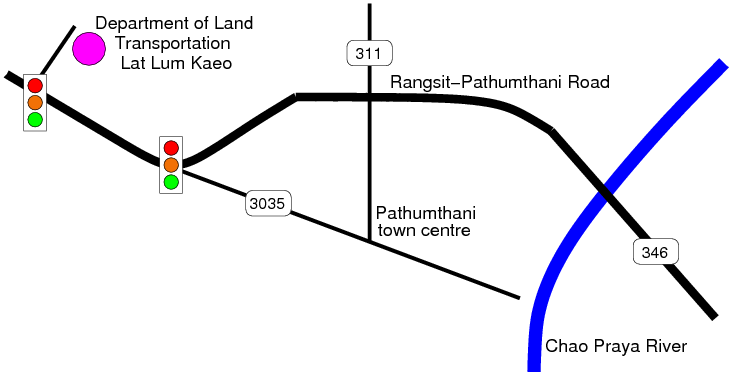 Getting the License
Inside the building is where the translator first becomes useful. We arrived a bit after 9am, and the car park was already almost full and there were quite a few people inside. All signs are in Thai. The license centre is upstairs on floor 2. There are about 6 numbered windows/booths, a couple saying
One Stop Service
in English, all other signs in Thai. We were directed to window 5 and proceeded as follows: Received the application form from Window 5. The form is in Thai - the 2nd reason for a translator. It asks for name (in English and Thai), age, nationality, passport number and a set of tick boxes which I still don't know what they mean. Fill it in and return to Window 5. Behind the booths are some people getting there photo taken and doing sight tests, as well as a small room labeled
E-Exam
. We were directed there. There were a few people in line and being processed quite quickly. As I approached the woman, who turned out spoke ok English, showed me a single colour-blind test sheet. This was the same as at my health checkup, except only one number (health checkup had about 10) and the same number as the previous guy - I could have just repeated his answer. She then directed me to the other test area (next to all the computer terminals for the written test). Supposedly a reaction/reflex and depth perception test is required. Four applicants sat waiting for about 20 minutes for a tester to come. There was a seat with accelerator and brake pedal in front of it, and then 6 or 7 metres away a box with green light and a 30cm vertical ruler with a thick line marked on it. You put your foot on the accelerator and after a few seconds some green LEDs start lighting up along the ruler. Once they turn red you must push the brake pedal (before the red lights hit the thick line - less than 1 second). The first guy pushed the brake before the red lights came on - a couple more tries and he got it right. The next older guy, didn't hit the brake before the red LEDs hit the marked line or the top. But he got it close after another try. The third guy was successful, then on my turn I was too slow, slightly going passed the marked line. But before I got a chance at the 2nd attempt, the tester had already ticked all my tests (including, I guess, the depth perception that no-one else did either) and sent me back to window 5. The lady at window 5 looked at my documents quickly again, return them and a number to me and told us to wait 'over there'. This is the part I hate about such places (in any country). There are people, queues, tests every where. Which line do I wait in? Even the translator didn't help this time: Wan asked another lady where and she sent us into a waiting room, which ran an instructional driving video, as about 30 people wait. It took as 25 minutes before we realised that the people waiting didn't have the number I did - they were outside. Once I got in the correct queue (of 2 people), the next woman looked closer at my documents, entered in my details and I paid 205 Baht. Then a photo. 3 minutes later my Thai license was produced and we were finished. It took less than 90 minutes in total. It would've been about 1 hour if I got in the correct queue. That is very good service, and I'm not too concerned about going back in a 1 years time to get my real license. This one is just temporary.
Created on Mon, 29 Mar 2010, 9:14pm
Last changed on Tue, 30 Mar 2010, 10:51pm