Sport in Thailand ... Sepaktakraw
Being the ignorant Westerner I am, before moving to Thailand I didn't really strongly link the country with any sports. I guess I had heard of
Paradaron Srichapan
, the Thai tennis player who made it to the world top ten, but other than that who is there? And what about team sports? The Olympics? Of course you can find various sports played in Thailand (there's even a
Aussie Rules
footy team, the Thailand Tigers, and
national cricket competition
), but what are the main sports in Thailand?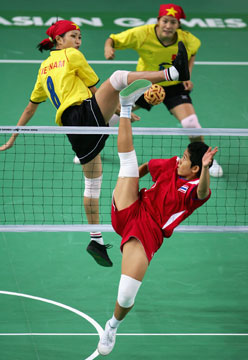 Well, the
15th Asian Games
are currently on in Doha, Qatar, and that has seen an increase in interest in sport in Bangkok, especially since Thailand are ranked 5th overall with currently 43 medals. The medals have come in a mixture of sports including rowing, snooker, shooting, a world record and gold medal in womens weightlifting, a gold in mens 4x100 relay (they just won as I'm typing this) and the most successful ... Sepaktakraw.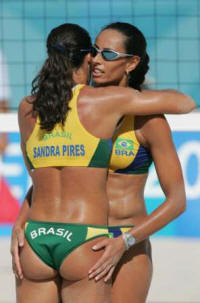 Sepakta-what, I hear you ask.
Sepaktakraw
(or Sepak Takraw) is in a short description: volleyball, but using your feet. That is, a team has 3 hits to get the ball over the net before it touchs the ground, but they can only use their feet or heads (no hands or arms). I managed to catch a few games on the weekend while drinking beer at the Future Park Rangsit Shopping Centre (well, outside in the large
Singha
beer area they have every night). Now this is a real sport - great to watch and full of skill. It seems much faster and skillful than normal volleyball, and compared to beach volleyball ... well, lets face it, noone cares what happens in beach volleyball so long as the uniform restrictions are in place. I saw the
regu
competition which had 3 players on either side, playing on a badminton court. The strikes that the players do to smash the ball over the net are amazing. A scissor style kick over their head. Just like the professional soccer (football) players try sometimes, except in Sepaktakraw the players don't miss the ball
and
they land on their feet. Would put Beckham to shame. I was lucky to catch the two gold medal matches: a close, 3 setter match between Thailand and Vietnam in the womens, and a easy win in Thailad versus Malaysia in the mens regu. Thailand won both gold medals. Their dominance (also have a gold medal in men's team competition, with more finals to come) may have something to do with the fact the game originated in Thailand/Malaysia 500 years ago. So not only is it a great game to watch, it also helps when you are watching with a crowd of beer-drinkin' Thai's cheering for the best team in the world.
Created on Wed, 13 Dec 2006, 12:32am
Last changed on Wed, 13 Dec 2006, 1:05am