Sky Bar at The Dome at Lebua at State Tower at ...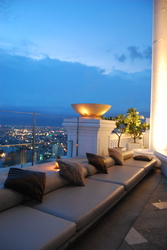 The name maybe confusing but this is an impressive rooftop bar in Bangkok with a great view of the city. The State Tower is the name of the building, located not far from the Oriental and other flash hotels near the Chao Praya River.
Lebua
is the 5-star hotel. The Dome is what they call their collection of restaurants and bars around the 52nd and 63rd floors. If you are a tourist and want to experience the view and atmosphere then the
Sky Bar
, and the nearby lounge is a popular walk-in option.
Pete and Ally
wanted to visit a rooftop bar when they visited, and this looked like a good option. Its very hi-so, and we came prepared wearing long pants and collars (as opposed to shorts, thongs and tank-top for the rest of the holiday). We found the building ok, a 15 minute walk from the Saphan Taksin BTS station. We may have came in through the wrong entrance because it was pretty quiet. Just two security guards, but they promptly showed us where to go once inside the building. Got the lifts and were greeted by half a dozen attendants. Didn't really know which floor we were going to because there are bars/restaurants both near the 52nd floor and at the top 63rd floor. Went to the top, and after saying we were after a drink outside (not a meal) we where directed to an outdoor lounge. There are large sofas around the balcony, and an amazing view of the city at night. We spent about an hour there relaxing with a bottle of red (Ally also had a glass of white). A very nice experience. On the way out the attendants showed us the real Sky Bar so we checked that out. Much bigger area with fancy outdoor bar, jazz band and a few tables. We didn't have a drink at Sky Bar though, because we were getting hungry. Ended up back on the Skytrain to Sukhumvit and dinner at
Cabbages & Condoms
. Its worth a visit just for the view. Apparently the restaurants (e.g. Sirocco) serve great food as well. Bring your credit card though. 6500 Baht for the wine. Thanks Pete!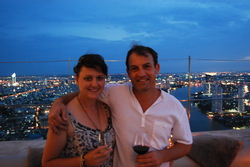 Created on Wed, 06 Oct 2010, 11:52pm
Last changed on Sun, 10 Oct 2010, 8:24pm