SIIT Tennis Team
My two forms of exercise so far in Thailand are running and tennis. Since arriving in September 2006, I have been running about the
Rangsit campus
a few times a week, on a semi-regular basis (at least on weekends). And since the new year I've been playing tennis with a gang from SIIT.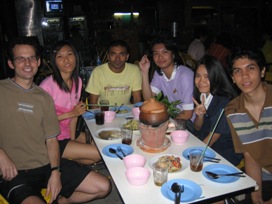 Actually my first game of tennis was in late October 2006, when I was the only representative of SIIT in a tennis competition against the Engineering, Law and Architecture faculties. I haven't got any photos of the tennis, although there are a couple of the
post-competition party
. (BTW I lost both matches!) After this there was some interest amongst the other SIIT staff members (and students) for a game of tennis. Finally in early January, with a bit of extra motivation from the Australian Open, we organised a game between four of us: Sakib, Yoichi, Khun Nata and myself. Now we play twice a week for two hours, usually with 6 to 8 players. There have been almost a dozen different players, as well as 4 or 5 people who have come along just to see the high quality spectacle. Check out the
photos
to see for yourself. And what better way to finish: after a couple of hours of playing tennis in the heat (it is still in the high 20's around 8pm), we all go for a meal on campus. My favourite so far is the small restaurant adjacent the tennis courts, selling mainly Isaan food. I'm sure by the time the next sports competition comes along, we will have a full time ready to take on the other Faculties. Maybe we could even play in
Universiade
, being held at Thammasat in August...
Created on Tue, 27 Feb 2007, 2:02am
Last changed on Mon, 12 Mar 2007, 12:39am