Rot Fai Park, near Jatujak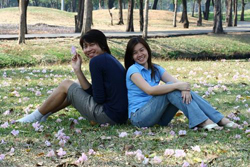 Today I went to Rot Fai Park with Khun
Ahe
,
Maew
and Ping. Actually we first went to a Buddhist temple around Chiang Rak (a few km from Thammasat Rangsit) at 8am. I like Buddhist religious activities. Sure we had to get up early to go, but the ceremonial part took about 10 minutes, and it was pretty much private (5 to 10 people). Then we did exciting stuff (for religious ceremonies): released some turtles and eels into the nearby canal. Maybe its time to change from an apathetic agnostic to a buddhist ... After some breakfast, we drove into Rot Fai Park, which is behind Jatujak Park (and Jatujak Market, one of the biggest markets in the world). At Rot Fai Park you can hire a bicycle for 20 Baht, and then ride around the many tracks. There's plenty of food places and the Bangkok Butterfly place. It was good Sunday fun. Once we worked up an appetite we headed over to
Jatajuk Market
for a lunch and some shopping (well at least looking). This place is massive! I've been there two times now, and bought a few small things. But I really need to go back with an intention to buy more stuff. With 10,000 shops, they have everything! Khun Ahe is the photographer amongst us, so she has some
great pics of Rot Fai Park
and surrounds.
Created on Sun, 03 Feb 2008, 11:00pm
Last changed on Sun, 17 Feb 2008, 12:12am