Peter and Allison's Wedding
The main reason for going
home to Australia
was to attend my brother's, Peter, wedding to Allison. I was best man, so couldn't really miss it. The wedding ceremony was held in a local vineyard. It rained most days up to the wedding, and rain was also forecast for the wedding day. But it turned out to be almost perfect weather, with no rain and comfortable temperature.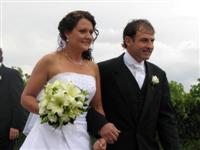 While the groom (Pete), groomsmen (me and Brett) and guests waited at the vineyard, the bride (Allison) arrived with her father and bridesmaids on horse and cart. After the official ceremony and many photos, we cracked our first beer, and the wedding party travelled in the carts to Pete and Allison's new house (currently under construction) for more photos, drinks and snacks. Then after a few more photo stops, we made our way to the Barn Palais for the reception dinner. It was a great night, with perhaps the best food I've eaten at an Australian wedding and plenty of beer and wine. Pete and Ally went on their honeymoon to Tasmania the day after the wedding. However, to ensure they started their married life with a smile on their faces, someone went into their hotel room during the reception and made their room a little more 'comfortable'. All of the toilet paper and tissues were removed from the room (well, not removed, just soaked in water then placed in the freezer), and breakfast was prepared (that is, a large container of cornflakes and weetbix were crushed in their bed). Many people assumed that it was me that did such nasty things, but people may be surprised as to who the real culprit(s) were ... Some of the photos from the wedding and reception are in the
gallery
. More may come when the official photographer releases her photos.
Created on Tue, 15 Apr 2008, 4:31pm
Last changed on Wed, 30 Apr 2008, 3:27pm