Nikon D40 Digital SLR
I bought a new camera today. A
Nikon D40
digital SLR from
EC-Mall
in Future Park, Rangsit.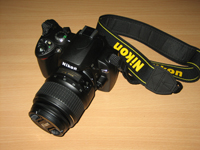 Considering photos are a large part of my website (and main method for recording parts of my experiences in Thailand and elsewhere), I decided I would put some more effort into the quality of photos. First step (although certainly not the main step), was to get a new camera. My
Canon IXUS 50
is working well (after a
4000 Baht repair job
in 2007), but does not produce great quality pics (maybe its the user?). After talking to friends and reading a bunch of online reviews, I decided to go for a digital SLR, limiting my choice to the entry level Canon or Nikon cameras. In Thailand, the current models are the
Canon EOS400D
and
Nikon D40X
. However, the older models (EOS350 and D40) are still on sale, and of course the newer models are arriving shortly (e.g. EOS450D). I was going to get one of the current models, which were priced around
21000 Baht
, until
Brenton
pointed me to
Ken Rockwell's
site, which strongly recommended selecting the older Nikon D40, over the D40X (note,
some people
think Ken is a little too enthusiastic about Nikon). With this advice, I decided on the D40. I wasn't too concerned about Canon or Nikon: I would have been nice to stay with Canon (have the IXUS 50 and video camera), while Nikon uses SD cards which I currently have about 750MB (the Canon uses CF card).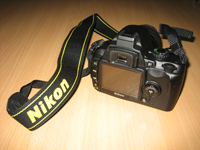 There are several nice web sites for camera shops in Thailand:
EC Mall
,
Pix-One
,
World Camera
,
Fotofile
, and
Mee Camera
. Both EC Mall and Pix-One have outlets in Future Park at Rangsit. So I checked them out. Pix-One didn't have the D40 in stock, so that left me with EC Mall. They had it, so I got it. My bartering was not very good (mainly because the camera was already on special). In the end I got:
Nikon D40 Kit, which includes the body and standard Nikkor 18-55mm lens (15500 Baht)
Kingston 1GB SD card
A rather crappy looking, but so far functional camera bag
A lens cleaning kit
A D40 manual in Thai and a D40X manual in English. Doesn't matter: the D40 manual is available online and of course there is Ken Rockwell's user's guide
Total price was
16000 Baht
. I was happy with this, considering I was planning on spending 20000 Baht or more. In the future, I can get some more equipment, including a new lens, spare batteries and maybe a bigger camera bag. But for now I'm happy. Now its time to learn how to take good photos.
Created on Fri, 15 Feb 2008, 12:00am
Last changed on Fri, 09 May 2008, 2:22pm