My 1st Birthday
Today, Friday the 6th of April, is my first birthday in Thailand and so the day was declared a national holiday. Well perhaps it wasn't just for me -
Chakri Day
is the anniversary of the establishment of the current Chakri Dynasty in Thailand. I prematurely celebrated by birthday last night, having dinner with friends at See Fah Restaurant in Future Park, Rangsit. Check out the photos in the
gallery
. It was a nice Thai restaurant, and I really enjoyed the food. Most dishes were 80-150
Baht
. In the end there was plenty of food left over - total cost of less than 5000
Baht
for 20 people.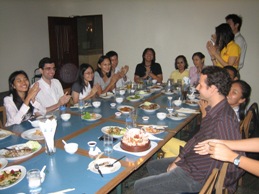 Following dinner, some of the group kicked on, heading to Major Cineplex for some karaoke. Karaoke is a big thing in Thailand, and quite different from the couple of times I experienced it in Australia. There are three types of karaoke that are popular:
Private rooms for 5 to 10 people. They have a couple of sofas setup to watch the screen and everyone sits around singing. There is a large collection of Thai and Western songs (usually the latest hits and the classics). This is what we went to at Major. Of course you can get food and drink, and actually have a dinner while singing.
Booths for 1 to 3 people. These are all over shopping centres - I haven't tried yet (mainly Thai songs I think).
Private parties. Its common if a group is having a party to hire a karaoke setup (speakers, sound system, computer with songs) and belt out some tunes.
There are some things I know that I am good at, or at least think I am ok at. But for singing, that's one thing I know for sure that I am BAD! But that didn't stop me - I joined in on a few songs and even sang some songs by myself (e.g. Elvis - Love Me Tender). I pity the others that had to endure my singing, but it was my birthday. It was a great birthday party, and today I am going to relax and enjoy my public holiday.
Created on Fri, 06 Apr 2007, 1:00pm
Last changed on Wed, 16 May 2007, 7:02pm