Khun Oil's Wedding in Ayutthaya
On the weekend (24/25 Feb) a few of us from work attended a wedding of Khun Ahe's sister in Ayutthaya. Ahe works at SIIT and I often catch the same same van as her and other students and staff on the way to work. She invited a group of us - Sakib, Bo Bo, Ben, Ann and Myao - up to her sisters local weekend.
Ayutthaya
is the ancient capital of Thailand, with many temples and artefacts (mostly ruins now, after a war with Myanmar, who once controlled the city). Its about 40kms north of Pathumthani. We caught the train from near Thammasat about 11am (actually we arrived just in time, having to run across other tracks to get on the leaving train). It took about 40 minutes to get to
Bang Pha Che
(Ahe's home), which is just past the city of Ayutthaya (all provinces in Thailand also have a city/capital of the same name - can be quite confusing).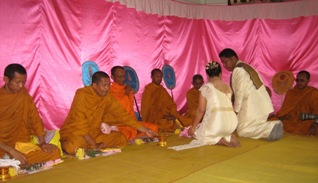 The Saturday was spent at Ahe's house, helping in preparing some flower arrangements and food, and hanging around. Of course Ae's family treated us all to a great lunch and dinner. The six of us stayed in 2 rooms at a nearby resort - basically a comfy room with bed and bathroom. Saturday night was spent relaxing and watching TV, although we did make a second batch of jelly for the wedding at about 11pm, after some of the first batch was eaten for dinner. The wedding was on Sunday, starting around 7am. It was a casual event, starting with the Buddhist monks saying prayers, then a procession from outside back into the house. And of course breakfast. After breakfast we went back to the resort for a break, then back to the wedding for lunch. Again a large feast all afternoon, and plenty of entertainment on the large stage. A few speeches, dancing and finally we headed home about 4pm. It was a great weekend, and special thanks go to Ahe for the invitation. Plenty of photos and details in the
gallery
.
Created on Wed, 28 Feb 2007, 12:00am
Last changed on Mon, 12 Mar 2007, 12:39am