HP PhotoSmart C3180 Multifunction Colour Printer
After getting a new router yesterday I returned to Zeer Rangsit and got my next IT purchase today: a
HP
PhotoSmart C3180 colour printer and scanner for 4000 Baht.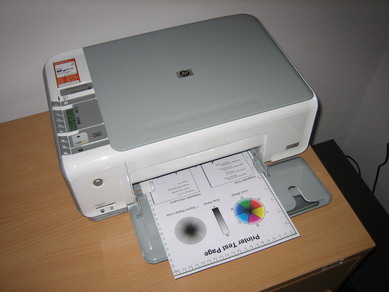 I looked around on the web and at Zeer for several similar printers, including the Epson, Canon and Brother printers. I chose this printer because of its reasonable quality colour printing (e.g. for photos), a better scan resolution than most other options (upto 1200x2400 dpi) and excellent Linux support (see the
HP Linux Print Driver project
). The Linux support is so I can run the printer on my Ubuntu linux based web server (in the spare bedroom) and print to it from my main PC (from either Windows or Ubuntu). The print server functionality is provided by
CUPS
, the Common Unix Printing System. So far using CUPS to manage the printing has been working ok for Ubuntu, but I haven't got printing from Windows (on main PC) to the server (on second PC) working yet. Still trying ...
Created on Tue, 21 Nov 2006, 12:34am
Last changed on Sun, 10 Dec 2006, 12:58am