Hot Chilli Chicken with Ginger and Lemon Grass
Notes
Also known as
Ga Xao Xa Ot
. You can use duck legs instead of chicken if you want. This is a favourite of mine and has been served to many guests.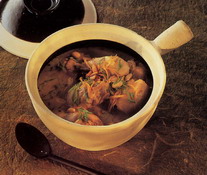 Preparation Time:
1 hours
Ingredients
3 chicken legs (thighs and drumsticks)
1 Tbsp vegetable oil
1 piece fresh giner, 2cm long, peeled and finely chopped
1 crushed clove garlic
1 small red chilli, finely chopped
1 piece lemon grass, 5cm, shredded
150ml chicken stock
1 Tbsp fish sauce
2 tsp sugar
1/2 tsp salt
juice of 1/2 lemon
50g raw peanuts
2 spring onions, shredded
1 zest of mandarin
2 Tbsp chopped mint
rice or rice noodles, to serve
Cooking Instructions
Using a cleaver or large knife, chop through the narrow end of the drumsticks. Remove the jointed parts of the drumsticks and thigh bones, then remove the skin.
Heat the oil in a large wok. Add chicken, ginger, garlic, chilli and lemon grass and cook for 3-4 minutes. Add the chicken stock, fish sauce, sugar, salt and lemon juice. Cover and simmer for 30-35 minutes.
To prepare the peanuts for the topping gently roast the until evenly brown for about 2-3 minutes. Put the nuts on a clean cloth, rub briskly to remove the red skins.
Serve the chicken scattered with roasted peanuts, shredded spring onions and the zest of a mandarin. Serve with rice or rice noodles.
Source:
The Complete Chinese and Asian Cookbook
Created on Sun, 03 Dec 2006, 7:36pm
Last changed on Tue, 01 May 2007, 9:47pm