Guest House Hua Hin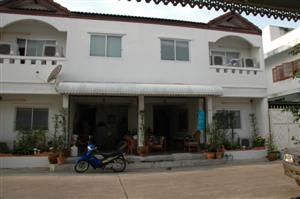 Not a very imaginative name, but a nice place to stay while in Hua Hin. The
Guest House Hua Hin
is in Takiab beach, about 5 km from the centre of Hua Hin. I stayed there fore 5 nights over New Years 2007, along with 11 other friends (although not all at the same time). Brenton found the place from a web search (or maybe a directory of guest houses in Hua Hin). As it was New Years, we made a booking about 2 weeks beforehand. We had a complex booking: 4 people stayed for 6 nights, 1 person for 5 of those 6 nights, and 3 groups of 2 to 3 people stayed for 2 nights over those 6 nights (and different 2 nights)! Half of the total cost was required for a deposit (bank transfer) before the booking was confirmed. The costs were
900 Baht
for a standard twin room (2 beds, hence 450 Baht per person) and
700 Baht
for a standard single room (one king bed).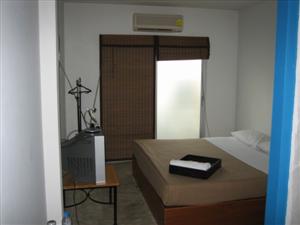 The rooms was excellent. From the name (guest house) I was expecting something ordinary, but everything was quality. Good size rooms, nice bed, good A/C, nice bathroom with hot shower, toilet and basin, TV, and small things, like slippers for wearing in the room. The place is not big: it is on a side street off a main road through Takiab Beach, and consists of 2 buildings either side of the street. Each building has about 10 or 12 rooms. The street is quiet, giving a relaxing atmosphere. Downstairs is a communal coffee table and lounge. Most afternoons/nights we would sit around there waiting for people to return from their daily adventures, and deciding what to do at night. Of course, this involved a couple of drinks. The place is run by some young local people (mostly family), although I think owned by large hotel in Bangkok. They were helpful and friendly, and our afternoons sitting around the coffee table usually included 4 or 5 of those working at the guest house. This made the stay even better, because on a couple of nights we even met up with them in town.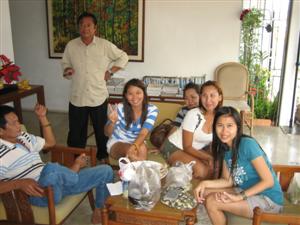 The location with respect to the beach and centre of Hua Hin is the only downside of the place. Its about a 15 minute walk to the beach and a 100 to 150 Baht taxi to the centre of Hua Hin. However, there are plenty of small places within 5 minutes walk for food, drinking, massage and Internet, so that was not a problem for us. In summary, I would recommend staying at the Guest House Hua Hin, and would stay there again when looking for a relaxing holiday in Hua Hin.
Photo Gallery
View Guest House Hua Hin on
Google Maps
or
Google Earth
.
Created on Thu, 03 Jan 2008, 11:03pm
Last changed on Mon, 28 Jan 2008, 11:07pm