Four Days in Chiang Mai
We have just spent four nights in the capital of Northern Thailand,
Chiang Mai
. It was a return visit for me, but the first for my parents, so we spent the time exploring some of the popular attractions around the city. Some of the things we did included:
Doi Suthep National Park, including Wat Prathat Doi Suthep and Bhubhing Royal Palace. This is a must see, especially the Wat which is the most famous attraction in Chiang Mai. Highly recommended.
Maesa Elephant Camp for a 30 minute elephant ride followed by a 1 hour show of elephant football, painting and games. This was a highlight of the trip: the ride was great fun, and the show professional and entertaining. The cost for both 30 minute ride and show was a total of about 500 Baht per person. Highly recommended.
Night Bazaar, a popular tourist shopping area in the city. I had briefly been to this market before and had the impression that it was too touristy (e.g. lots of t-shirts for sale) and not worth going to. But after spending more time wandering around the market on this trip, I was impressed. There are plenty of Thai handicrafts and nice clothes available for good prices. I enjoyed it, and we wandered around most nights we were in Chiang Mai (made possible since our hotel, Centara Duangtawan was adjacent the market). Recommended.
Monkey School, a small place for training monkeys that puts on a 30 minute show and lets you feed the monkeys. An entertaining show, but the entrance fee of 200 Baht was far too high.
Wat Phra Singh a large wat in the old city, is a very peaceful area to walk around for an hour or two. Good to visit if you have time.
Sunday Night Market is a popular market, for tourists and locals focussing more on Thai handicrafts and food (rather than t-shirts and DVDs like the Night Bazaar). unfortunately after an hour of wandering around and eating it started to rain so we left early. Recommended.
A small village around Mae Rim (or Mae Sa?) where we bought some silk items (table cloth etc.). I preferred the village on Doi Suthep (Doi Pui), but this one was peaceful. There is a Karen (long neck) village centre nearby as well which most likely has many more villagers and handicrafts, but the 500 Baht entrance fee was too steep for what we were interested in.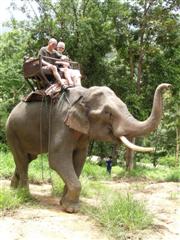 We ate at a variety of places including:
The Good View Restaurant which has a good view of the river - surprise, surprise! This is a large restaurant with a good atmosphere and a large number of tourists (both Thai and foreigners). It is slightly expensive (averaged about 300 Baht per person), but has tasty and reliable Thai food and is a good location for a night out enjoying dinner and drinks. There are also some smaller places nearby which are ok too.
Antique House Restaurant, as the name suggests, a restaurant in the front yard of an old house. We ate there for lunch and had good food. Probably better to go at night time when bit more atmosphere.
Several restaurants around the Night Bazaar, most of which had a large selection of seafood and Thai dishes.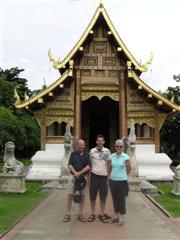 For two days we used a hire car/driver (essentially a private taxi) for visiting attractions. This was organised from just outside the hotel (
800 Baht
for most of the day up Doi Suthep) and via the concierge (500 Baht for half a day to Mae Sae and surrounds). The third day we used a songtaew to go to the Mae Sa Elephant Camp and Monkey School - 500 Baht for about half a day. All were ok, except you have to be extra clear about saying where you want to go. That is, don't rely on the driver to show you around - try to go with a list of places you want to go to and make them clear to the driver. Other than touring, we spent our time at the
Centara Duangtawan Hotel
, which I enjoyed. Plenty of photos are available in the
gallery
. In summary, Chiang Mai is a great destination with plenty of things to do and see. We focussed on nearby attractions, but there are also a lot of full day tours as well as overnight tours and treks.
Created on Wed, 01 Aug 2007, 11:00pm
Last changed on Tue, 07 Aug 2007, 5:02pm