For Sale - Hyundai FX Coupe
SOLD! (finally)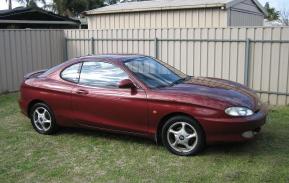 As I am moving overseas, my car is now for sale. It is a 1996 (December) Hyundai FX Coupe, and has travelled less than 118,000km. It is in excellent condition, has had regular services and has a fuel efficient 2.0ltr engine. The price is:
$7,000
Contact me by
email
or my mobile (0414782276) if you are interested in a test-drive (Pooraka, SA). View the
photos
. The detailed specifications are:
Make/Model/Year: Hyundai FX Coupe 1996 (Dec)
Engine: 2.0ltr, 4 cyclinder, Multi-point Fuel Injection
Transmission: 5 speed Manual
Body: 2 door, 4 seat
Kilometres: 118,000km
Features: Aircon, power steering, power windows, power mirrors, CD with 6 speakers, fog lamps, alloy wheels, central locking
Registration: VWZ461
Don't confuse the FX with the lower spec SX model (which only has a 1.8ltr engine). I purchased the car second-hand in September 1999 - it had done 42,000km. Since then I've travelled about 10,000km per year. It received a 4 year extended warranty when I purchased the car and I have had it serviced at a Hyundai dealer at least every 12 months (last service was Feb 2006). A major service was performed in 2003, which included replacement of the timing belt. Hence the car is in excellent condition for its age.
Created on Thu, 20 Jul 2006, 2:45pm
Last changed on Mon, 23 Apr 2007, 10:11pm