Flooding of Industrial Parks Around Bangkok
The flooding of industrial parks in Ayutthaya and Pathumthani is going to have a significant impact on the Thai economy. The parks (or estates) are home to 100's of factories of national and international companies primarily from the electronics and auto industries (e.g. Toshiba, Sony, Canon, Nikon, Honda, Toyota). So far at least five major estates have been affected by the floods:
Saharattanakorn Industrial Estate was flooded on October 4.
Rojana Industrial Estate was flooded on October 6.
Hi-Tech Industrial Estate was flooded on October 13.
Bang Pa In Industrial Estate was flooded on October 15.
Nava Nakorn Industrial Estate has been partially flooded as of today, October 17
Nava Nakorn is the biggest and oldest of the estates, and supposedly the most protected from floods with 5m flood walls. After Bang Pa In was flooded, the resources of the companies, government and army were directed towards protecting Nava Nakorn. As of 11am today there were reports that Nava Nakorn was safe. But just before noon the Flood Relief Operations Centre (FROC) reported a break in one of the walls and then ordered the evacuation of all people in the area (up to 200,000 people live/work there, although not all at the same time).
Below is a rough map of the area showing the Bang Pa In and Nava Nakorn Estates, as well as Bangkadi Industrial Park (BIP). Bangkadi is expected to be the next park to be under threat by the floods.
Although I live on the main Thammasat Rangsit campus where SIIT has its main buildings, SIIT also has a small campus at Bangkadi. This is where I work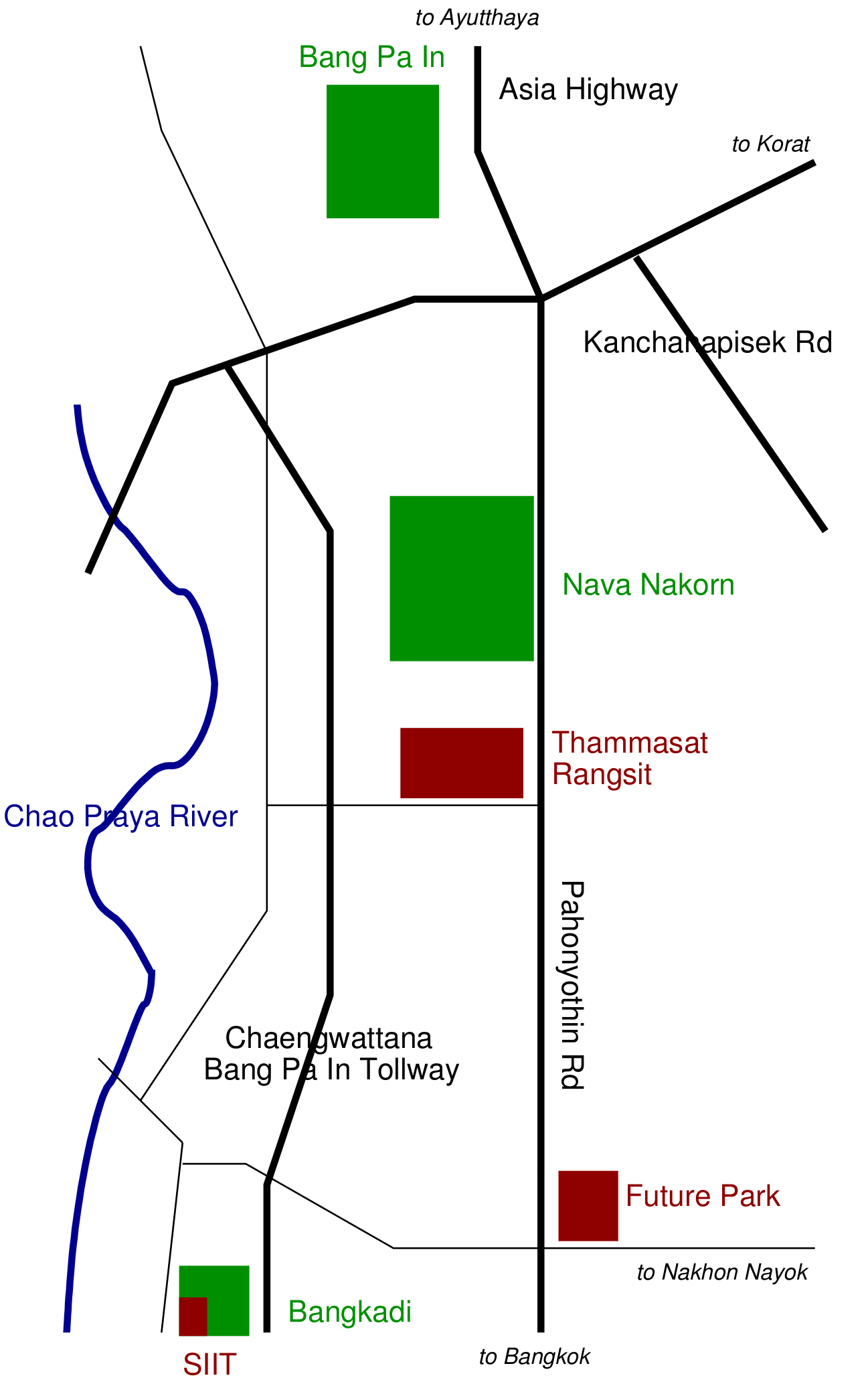 The distances between the estates, giving an idea of the flow of the flood, is: Saharattanakorn to Rojjana: 30km; Rojjana to Hi-Tech: 12km; Hi-Tech to Bang Pa In: 14km; Bang Pa In to Nava Nakorn: 19km; Nava Nakorn to Bangkadi: 22km.
Volunteers have been working since early last week in building up flood walls with sand bags. Lets hope their efforts pay off. Otherwise I may be away from the office for much more than just a few days.
Created on Mon, 17 Oct 2011, 6:43pm
Last changed on Wed, 16 May 2012, 8:42pm