Flooding Around Thammasat Rangsit Campus
The floods in Thailand have now surrounded Thammasat University, Rangsit Campus, in Pathumthani, where we live. The campus has been deserted by most staff and students (the uni is shut from 12 through to 19 October) but is a major shelter for those evacuated from Ayutthaya and other affected areas north of Bangkok (and the hospital is still operating). There are about 3000 evacuees staying in the main gym.
Now the water has basically surrounded the campus, with portions of the main highway east of the campus (Pahonyothin Road) flooded with accompanying traffic jams, as well as to the south (Chiang Rak Road). The villages and farm land to the west and north are also flooded. Its possible, but not guaranteed that the campus will also be flooded.
Here are a few photos taken today around the campus. The first is the village nearest to my dorm building. There is a canal between the village and campus, as well as a moat on the campus side, then a road and my dorm building. The shops next to the canal are about 1m under water.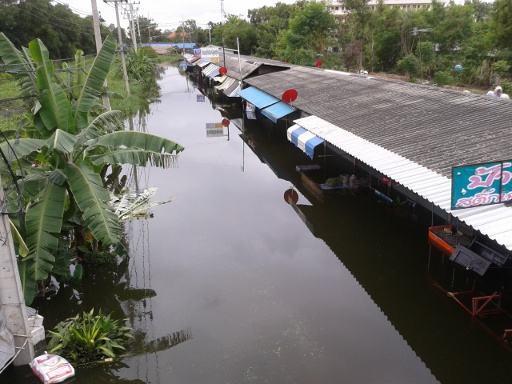 Over the past few days and nights workers have been raising the barrier between the canal and the moat next to the campus by about 1m (see below). On the canal side, the water is almost at the height of the barrier before it was raised. This is added protection for the campus - at the expense of the village...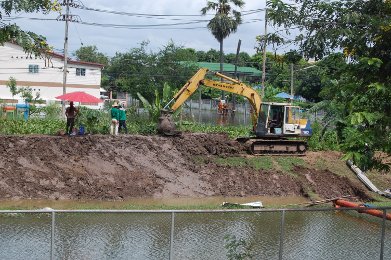 The next photo is my dorm building, showing the moat. My room is on the second floor so should be safe.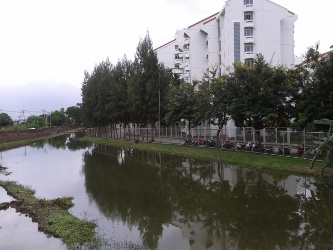 The road to the south of the campus has had minor flooding over the past week. Perhaps no more than a foot deep but creating traffic jams and blocking the U-turn near Pahonyothin Road. In the distance you can see the cars parked along the overpass. I've shifted my car to near AIT, which is raised by about another 1.5m.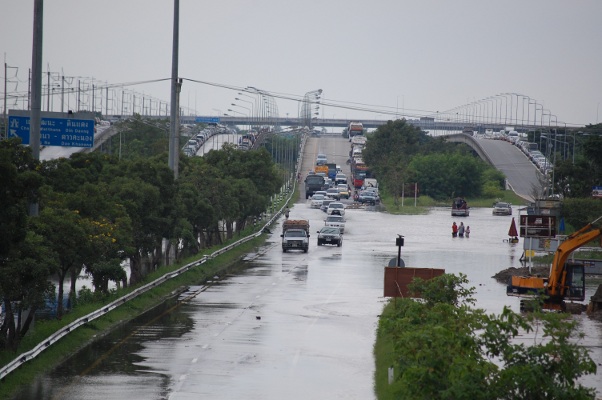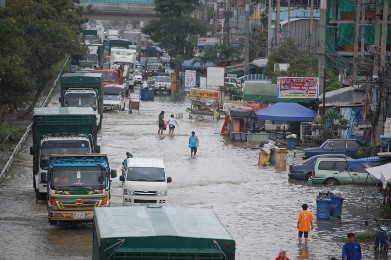 From the news, Pahonyothin Road (the main highway leading north from Bangkok) also has flooding creating more traffic jams. We've decided to not leave the campus today and perhaps could be stuck here for the next couple of days.
Created on Mon, 17 Oct 2011, 5:20pm
Last changed on Wed, 16 May 2012, 8:41pm