Flinders Ranges, South Australia
From April 10 to 13 this year was the Easter long weekend. This is a time when many people go on a holiday, often camping or in a caravan. Wan, Brenton and I went camping the
Flinders Ranges
, a large set of mountain ranges in central South Australia considered the start of the Australian Outback.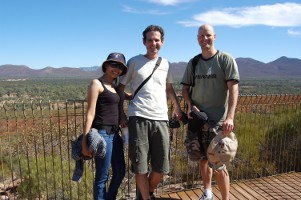 On Thursday Wan and I drove from Kongorong to Adelaide (about 5 hours), picked up Brenton from his work about 3pm, organised our camping gear and supplies at his house, then drove another 2 hours north of Adelaide to Clare Valley. This is a good place to stop on the way to the Flinders (which is another 3 to 4 hours drive, not because it is one of Australia's many popular wine regions, but because our friends Rob and Meg live there and we get free camping. We set up our tent at their place, enjoyed a BBQ dinner, and got on the road again by about 11am Friday. [Rob and Meg have a nice simple setup on their 100 acres, and about a week after visiting them they had their first kid, Willow. Check out
their journey
). We drove via Jamestown, Orroroo, Carrieton and Craddick to Hawker and then arrived at Wilpena Pound (the heart of the Flinders Ranges) about 3pm. There are two caravan/camping parks:
Wilpena Pound
and
Rawnsley Station
. Both are pretty good - this time we stayed at Wilpena Pound for $27 per night (unpowered site, 3 people). You can also stay in the National Park, especially in places like Brachina Gorge, which is much more peaceful bush camping. The weather was perfect for the trip. Everyday was about 28 degrees, with the occasional cloud. At night time it was not too cold, especially with the fire. What did we do there? A lot of time was spent relaxing with a beer at the camp site. On Saturday we went on an easy 3 hour trek up to Hill's Homestead and then to a lookout with a great view of Wilpena Pound. On Sunday we drove up through Bunyeroo and Brachina gorges, and then back towards Wilpena via Stokes Lookout. There are plenty of other places to go and things to do, but this weekend we all wanted to relax a bit. So after a couple of boxes of Coopers and half a dozen bottles of red we made our way home to Adelaide on Monday (and then back to Kongorong on Tuesday). Photos are available in the
Gallery
, as well as at Brenton's
Facebook page
.
Created on Mon, 13 Apr 2009, 5:40pm
Last changed on Fri, 08 May 2009, 6:04pm