Fireworks over Wedding
With Brett (my brother) and Marilyn's wedding coming up in a weeks time (11 March) here is some breaking news: fireworks are not allowed at their wedding! You may be saying to yourself "This is not news" but you are wrong - The Border Watch (local south-east of South Australia newspaper) ran the following article on page 2 on Tuesday 28 February.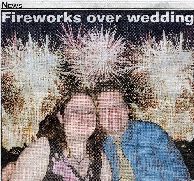 (click on the image above to see a larger image and the article)
Bride Furious over CFS Decision
By Laura Spencer
A BRIDE-to-be says her big day has been "ruined" by a CFS decision not to allow a fireworks display at her Mount Gambier wedding reception. Adelaide woman Marilyn Pyatt and fiance, former Kongorong man, Brett Gordon will be married on March 11 and were planning to surprise their guests with a fireworks display at the reception. Miss Pyatt had arranged her brother Paul, who is a qualified pyrotechnician, to set off the fireworks display just after dark at Mount Gambier International Motel. However, she says a CFS decision not to allow the fireworks to go ahead - based on the chance the weather "might be hot" - has thrown her plans into chaos. "7Opc of our guests will be travelling from Adelaide for the wedding and that was our way of' saying 'thank you' to them," an angry Miss Pyatt said last week. She said her brother had been in the pyrotechnics business for about 10 years and had conducted fireworks displays for entertainers such as Destiny's Child and John Farnham. If her wedding day turned out to be a total fire ban, the fireworks would not go ahead. 'It's just ludicrous to say 'no' based on not knowing what the weather will do if the weather wasn't suitable we wouldn't go ahead with it - we don't want to start a bushfire," Miss Pyatt said. "The motel was looking forward to it (the display) and there's going to be CFS members at the wedding." Miss Pyatt had hoped the situation could be sorted out in time for her brother to order product and carry out associated legal requirements, but said time had run out. The International Motel falls within Grant District Council's jurisdiction, and fire prevention officer Harry Lindner said Miss Pyatt's application was denied due to the proposed location - which was surrounded by paddocks of dry grass - and anticipated conditions during what was traditionally a dangerous period of the fire danger season. He said Bushfire Prevention Committee policy required the application be referred to the CFS Mount Gambier and District group officer, while it had also been forwarded to Naracoorte's Region Five headquarters, before the final decision was made. "The decision was made in the interest of the community ... we don't want any deaths or loss of property," Mr Lindner said.
Created on Sat, 04 Mar 2006, 7:51pm
Last changed on Sat, 17 Jun 2006, 11:05pm