Driving from Bangkok to Siem Reap in Cambodia
When
Mum and Dad visited
we visited Angkor Wat/Siem Reap in Cambodia for a few days. Instead of paying the $AU400 per person round trip flights offered by Bangkok Airways (the only airline flying Bangkok to Siem Reap), we went by car. I drove my car from Bangkok to Aranyaprathet (on the Thai side of the border), then we crossed over and caught a taxi to Siem Reap. The following is how we did it. I collected a lot of this information from
Tales of Asia
and the
ThaiVisa forum
.
Bangkok to Aranyaprathet
We left Pathumthani at about 6am on Thursday 12 August. This was the first day of a 4-day long weekend in Thailand (Queens Birthday), so the early start was to avoid potential traffic jams as people left Bangkok, as well as arrive at the border in time to avoid long queues at immigration. We took the Rangsit-Nakhon Nayok Road which is 2-lane (in one direction) all the way to Nakhon Nayok. Then we turned right onto No. 33, which goes all the way to Aranyaprathet. This road us 2-lane most of the way, except with two sections (probably about 40km) of 1-lane road. Overall it was an easy drive: the 240km plus couple of toilet stops taking 3.5 hours.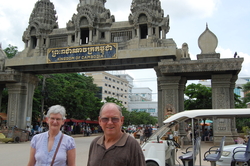 I had read on
ThaiVisa
that a secure car park is available at the border. As you drive directly towards the border check point, the large Rong Klua market is on the left. On the right (as well as on the left just past the entrance to the market) are several car parks. As our car slowly passed the turn to the market the attendants run towards the car trying to get is to enter their car park. At this stage there was little traffic around. I turned into the first on the right, called Getaway. It had shade clothe covering parking spaces, plus a large, clean toilet block. Price was 100 Baht a day, and yes, the car was their in tact when we returned 5 days later.
Crossing the Border
As we organised our bags at the car, two "helpers" came spoke to us, offering to help (with bags, visas, getting across the border, taxis on other side). After reading the great info about the Aranyaprathet/Poipet border crossing on
Tales of Asia
I had a good idea of what we needed to do and declined their help. However they did offer us a Cambodia arrival form which I declined but should've taken as filling it in at Cambodia immigration was a headache. Anyway, from the car park it was a 50m walk to Thai immigration for departure. The Thai departure building is on the left. There were spaces to queue outside, but at about 10am noone around. Inside the building was a queue of about 10 foreigners in front of us. It took about 10 minutes to get through for Mum, Dad and I, except Wan didn't have her departure card and had to return to the end of the line, adding another 15 minutes. Once out of Thai immigration we proceeded across the bridge to enter Cambodia. There is a big Angkor style arch way, then on the left some small buildings and a tent for a health check. Spotting the foreigners a guy at the health check tent (two small tables and some chairs) directed us in to complete the simple forms. Then he showed us the way to Cambodia immigration (on the right side of the road, about 150m walk past the several casinos which many of the Thais are going to). Note that we already had our visa – an
E-Visa
I obtained online about a week beforehand. This E-visa was simple and quick. You visit the website, provide the details of the people travelling, upload a passport photo, pay $US25 with credit card (the payment is handled by a third party, perhaps PayPal, and supposedly safe) and then they email you a PDF of the E-Visa that you print (two copies) and take with you. I received the email the day after applying. On mine there was a mistake in my name (I think I made the mistake). After letting them know in a response email they quickly corrected and sent me the updated PDF. The benefit of an E-Visa: no need to get a visa on arrival before passing Cambodia immigration (saving time on potentially long queues, and avoiding the need to pay extra 'tea money' to the officials). The cost: an extra $US5 processing fee (official price on arrival is $US5, but higher prices may be quoted). Although I didn't experience the hassle of getting a visa on arrival first hand, I would recommend getting the E-Visa to others. Back to Cambodia immigration. It was a small building with about 10 foreigners lined up at two windows inside. An immigration office was handing out arrival forms – this is where it would be nice to already have this form as filling in passport details and hotel addresses while writing on your knee is not much fun. Note that our 'helper' from the health check was still with us, and lent us a pen. The entire process of filling in the form, queuing and waiting for the immigration officer to check us in took about 30 minutes. There was no request for extra money, except the officer handing out arrival forms (for a price he said we could avoid the queues).
Getting to Siem Reap
After getting through immigration and officially in Cambodia, about 10m away was a waiting area for free buses to the International Transport Centre where we could get taxis (or a bus) to Siem Reap. Our helper got on the bus with us and within 5 minutes we were at the transport centre, which had a couple of buildings and plenty of Toyota Camry's ready to take people to Siem Reap. Our helper said the price was $US12 per person (it was also written on the window of the taxi ticket booth). I asked for $US40 (there was 4 of us) and he said ok, but that we shouldn't forget his tip. I paid for the ticket (with $US100 note that I wanted to break up) and 5 minutes later we were on or way. I gave our helper 100 Baht. Even though I knew what was coming and could have done everything without him, he was nice and took us to all the right places (not trying to scam us) making things a little less stressful. The drive to Siem Reap took about 2 hours. The taxi driver, who didn't speak any English, made it an interesting trip though. Firstly, it was a right-hand drive car driving on the right side of the road. Especially leaving Poipet where there was a lot of traffic, it was pretty stressful for Dad, sitting in the front seat, as the driver started to pull into the centre of the road to pass cars. The driver couldn't see oncoming traffic, but Dad sure could. On top of that the driver kept his hand on the horn. Any car, motorbike or pedestrian on our side of the road received about 5 toots to warn of our arrival. Even the cows were warned. We later realised Cambodia drivers use the horn for warning much more than in Thai (and in Australia), but still this driver was over the top. As expected, as we got into Siem Reap even after showing him the hotel, the driver took us to a small street and stopped near some tuk-tuks. The driver got out and another guy poked his head in saying that he is not allowed to go on any further, so we have to catch a tuk-tuk to the hotel. We get in the tuk-tuks, along with a tout who tried to get us to book him for touring Angkor. We declined his offer and gave him 50 Baht (too much) when we were dropped at the hotel.
Return to Thailand
The night before we were to leave I asked a tuk-tuk driver outside our hotel if he could organise a trip to Poipet for us. He said his brother had a Camry – price $US25. We agreed and had a peaceful trip back. Actually gave him $US30 as he had some interesting stories, drove safely and only used the horn 5 times in the whole trip. Getting back into Thailand was easy. Firstly on the right side near the large roundabout in Poipet was a small building were we got our Cambodia exit stamp. No lines, no wait. Then walked passed the casinos again and into Thailand. About 10 minutes in Thai immigration and we were finished. Went to the car, drove into Rongklua Market for some shopping then back to Bangkok. If travelling to Cambodia (Siem Reap) again I would take this overland option, rather than flying, again. Although stressful crossing into Cambodia, there were no major hassles. The 2nd time should surely be much easier.
Created on Sun, 29 Aug 2010, 10:51pm
Last changed on Sun, 19 Sep 2010, 6:47pm