Buying a Car in Thailand: Toyota Vios
After 18 months of living in Thailand, I've finally purchased my own set of wheels. A new Toyota Vios for
659,000 Baht
. Here are notes on the car itself and the process I went through in buying it.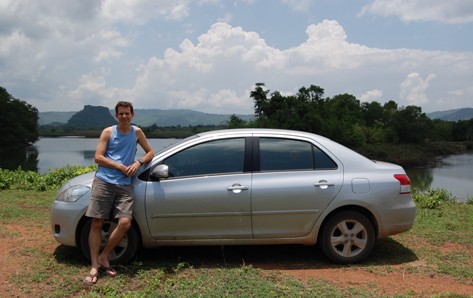 The Car
The car is a
Toyota Vios G
, which is the top of the 3 standard models (J, E and G. There are also two limited models: G Limited and S, or Sports, Limited). It is a four-door sedan, equivalent to the Yaris Sedan in Australia. It has a 1.5 litre engine, and includes dual airbags, ABS and other standard features. The
Toyota Thailand website
has a good comparison of the features of the different models. It is a silver exterior, with dark grey interior. The G model includes leather seats, as well as 60/40 fold down rear seats (so you can get into the boot/trunk). Also standard on the G model (compared to E/J) are: front fog lights, an improved speedo and information display, antenna printed on rear windscreen (as opposed to sticking up in the air), and the airbags. The optional accessories that came with the car are listed
later
when discussing the price. The Vios comes with a standard 3 year warranty.
New Vs Used
After deciding it was time to buy a car, the first decision was new or used? The reason for buying a car was to travel around more on weekends and some nights. I don't intend to drive to work or into the city much, therefore I wouldn't be driving too often. I would have preferred buying a used car, as 650000 Baht is a lot of money for something to be used only a couple of times a week. However, after talking to other foreigners in Thailand, reading some
forums
and checking out
used car prices on the web
, I decided to go for a new car because: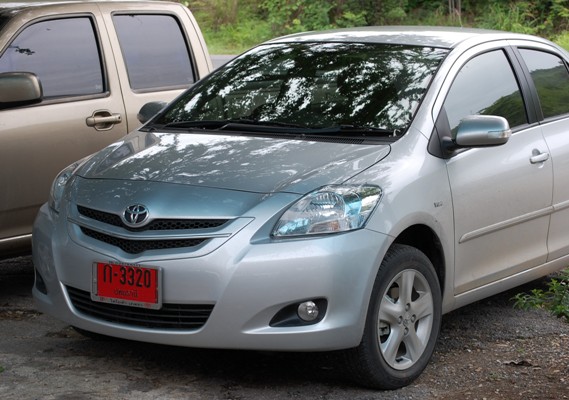 Vehicles in Thailand retain their value quite well (especially the popular makes and models). Firstly, that means used cars a quite expensive. For example, a used Toyota Vios that is about 2 years old is about 100,000 Baht cheaper than the new car price. A 4 year old car is about 200,000 Baht cheaper than the new price. Spending an extra 100,000 to 200,000 Baht to get a new car (with 3 year warranty) doesn't seem like a bad option. Secondly, the resale price of the vehicle is therefore high. Although a new car has a high upfront cost, some of that may be recovered if I decide to move on from Thailand in 2-3 years.
With a used car, there is always an additional risk regarding the quality of the vehicle. With the language and cultural barrier between me and the seller, this risk is even higher. That is, it would be hard for me to be confident of the car's quality and value becuase I don't speak enough Thai.
I wanted a (relatively) stress-free process of buying a car, and was prepared to pay for this luxury. Looking for a used car, there are many other variables that need to be considered. If I was to consider all these variables, the process of buying a used car could take me months!
Cars in Thailand
The two most popular car makers in Thailand are Toyota and Honda. The other Japanese manufacturers (Nissan, Mazda, Mitsubishi) are present, as well as Chevrolet and Ford, however it made sense to stick to the popular cars (for service and support, and re-sale value). On a side note, pick-up trucks are extremely popular in Thailand (some say, second only to the US in number sold per year), with the Toyota Hilux and Isuzu Dmax the clear leaders. Despite their lower cost (at least for a 2WD) than the sedans, I wasn't interested in such a vehicle. Both Honda and Toyota (as well as the others) have a standard line-up of vehicles:
1.5 litre sub-compact 4 door sedan (Honda City, Toyota Vios)
1.5 litre hatchback (Honda Jazz, Toyota Yaris)
1.6/1.8 litre compact sedan (Honda Civic, Toyota Corolla)
2.0 litre sedan (Honda Accord, Toyota Camry)
as well as people movers and 4WDs. Hatchbacks are nowhere near as popular in Thailand as they are elsewhere (i.e. Australia): they are mainly marketed for female drivers and/or young trendy drivers. For example, at the Honda dealer, he showed me the Jazz and asked am I buying for myself or wife (I was there by myself?) and after saying for myself he said "You won't want the Jazz then". The sub-compact sedan was what I was after, so that left a choice between the Honda City and Toyota Vios.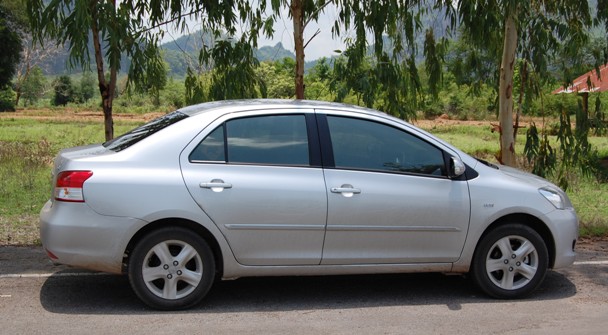 Toyota Vios Vs Honda City
After looking on the Internet and talking to people, I was leaning towards the Honda City. Although the main specs (engine, reliability, size) put the two almost identical, I just had a personal preference for Honda over Toyota. I had also seen on a Singapore website that the Honday had rear seats that folded up, as well as providing access to the boot (I later found that this was not on the Thai models). But after seeing the two cars and going for test drive, my preference shifted to the Toyota for several reasons:
The interior on the Toyota seemed better than the Honda. Maybe it was only small things, like an armrest with lid between the two front seats (as opposed to just a cavity in the Honda), but its something I noticed almost immediately after sitting in the cars.
The shape of the Toyota was nicer than the Honda. The Honda looked too high and/or thin at the back.
The Honda has a continuous variable transmission (an automatic with no gear changes), which is supposedly good to drive, but didn't feel right in the test drive. Alternatively you can select up and down between one of the 7 different ratios using paddle shifts on the steering wheel. Sounds cool, but I didn't see myself using it much (that is, 7 is too many options). I have since discovered the automatic on the Toyota to be quite good. I use Drive (4-speed auto) all the time, except when wanting to get some power to overtake a car, when a very simple shift of the gear stick to the right shifts into 3rd gear.
The Honda did not have fold-down rear seats.
Perhaps the main thing against the Toyota (and a reason my initial preference was for the Honda) was tit has the drivers console (speedo, odo, clock) in the
middle
of the car (not behind the steering wheel). This is strange - instead of glancing down to see your speed, you glance down and to the left. The two dealers I visited where next door to each other. Both are new showrooms opposite Future Park, hence reasonably convenient for me to get to. The Toyota dealer had in fact just opened 3 days before I arrived - it was a second showroom for Toyota Petra, which luckily enough has their headquarters showroom near St Carlos Medical Centre, which is on the way to, and 5 minutes away from, my work. After several days of looking on websites, considering the options and talking to some people, I visited the Honda and Toyota showrooms on a Saturday. The models I was initially looking at were the Honda City ZX V with Safety (598000 Baht)and the Toyota Vios E with Safety (609000 Baht). The Safety options includes airbags and ABS. The more expensive Vios G was also an option because of the fold down rear seats and nicer interior. I spent the weekend considering which car to go for, and first decided on the Toyota Vios. Then, after learning the E model would not be available for around 2 months, with the seats and leather interior I decided on the Vios G model. The car was in the showroom on the Friday, and I drove it away the following Monday.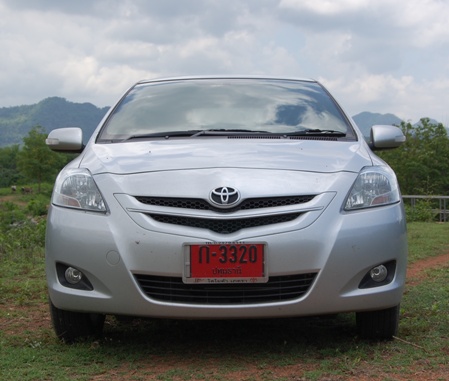 Price and Accessories
The price for new cars are not very flexible. 659,000 Baht is the sticker price for the Vios G. However, dealers often include 20,000 to 30,000 Baht of extras. In my case I wasn't very pushy because, apart from a couple of basics, I wasn't aware of any accessories that I really wanted. The sales agent kept looking for things to include: Her: Anything else you need? Me: Not really. Her: I will include a luggage tray for the boot Me: Oh, ok. I initially ordered a spoiler, but then decided against it. I think it only looks ok when the full body kit is included (front, side and rear skirts), but I decided I want a plain looking car that doesn't stand out. The accessories that were included were:
Rear parking sensor (it beeps when you get close to something while reversing)
Carpet floor mats
Luggage tray for boot
Side scuffs on the inside of doors
1 year of insurance
Tinted windows (60/40 Hi-Kool)
License plate covers
Hazard/emergency kit (jump start cables, flashlight, tow rope, hazard sign)
Chrome exhaust pipe extension
So thats it. I am now driving around Thailand in my new Toyota Vios, after after 2 weeks and about 1400km, I am satisfied with the choice. Later I will write a bit more about the paper work process (registration, license, etc).
Created on Wed, 07 May 2008, 1:12pm
Last changed on Sun, 11 May 2008, 5:31pm