Avoid Customs Officials (Especially on Mondays)
Today I learnt a good lesson: don't send anything that you have to collect through Thai Customs.
I had about 20 kgs (2 wine cartons) of books and clothes (in addition to my 30 odd kgs of luggage) that I decided to send as unaccompanied luggage through Baggage Masters in Adelaide. The cost to send was $AU170. I thought this would be cheaper than taking on the Qantas plane (usually charge about $AU20/kg for overweight luggage) and cheaper than posting (about $AU230 through Australia Post).
I sent it on Tuesday 12th and supposed to take 5-7 days to arrive at Bangkok Airport, where I collect. I got the phone call Friday 22nd that it had arrived, and I had to call the the freight company, collect a form and go through Customs. I didn't manage to go on Friday and the person who spoke English wasn't in till today (Monday 25th) so I arrived by taxi at the Cargo part of the airport at 1:30pm.
There are people everywhere collecting stuff, running around and inspecting boxes and bags. As soon as I get out of the taxi a guy comes up to me asking where I needed to go and he looks at my forms and leads me through several floors of corridors to the freight company. I always suspect that someone wants money for this type of service (or are going to scam you), but go along with it becauase its easier than finding my own way.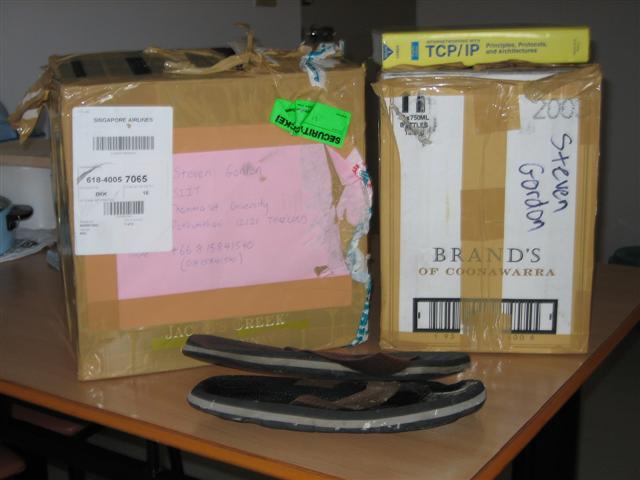 At the freight company office I get some forms signed and pay 321 Baht (which I knew I had to pay) and am then lead back through the corridors, then outside to a "Customs Official" at a desk. I had read on the Net that Customs may try to charge a lot of money to get stuff through, so had a bit of an idea of what was coming.
The guy is doing a lot of talking to his mates, and looking through some Customs books for charges of different items (he knows its clothes and used books) and starts doing some calculations on paper.
First he writes down $AU490 and converts to Baht. He got $490 from one of my forms, but I quickly explain to him that that is the total cost of the shipment my luggage came with, i.e. it includes other peoples stuff. I show him that mine cost $170 to send. He accepts that and starts working from $170. But why is he even using this amount? That is what I paid to send it to Thailand - its not the value of the items (which I assume Customs Duty may be paid on). Anyway I'm watching him do his calculations:
$AU171 = 5000 Baht
200 Baht for fee
490 Baht for storage
He then says I must pay 5690 Baht - about $AU200! So I try to explain to him that this is crazy, and figure now is the time to negotiate. I had seen in his Customs book the number 60 percent associated with personnel effects, so I say my luggage is only worth about 1000 Baht, so I should pay 60 percent of that only, 600 Baht. Well after 30 minutes in the heat negotiating, I offer 1100 Baht, he accepts and immediately sends me with another guy. This guys takes me back through the corridors, signing forms (who knows what I was signing!) and waiting for about an hour. I had to pay another 424 Baht to Thai Cargo. Then finally I get to collect my two boxes but wait another 40 minutes for someone to inspect the contents (in the end, the inspection was about 1 minute looking in the top of the boxes). Now I have my luggage, they guy puts it on a trolley and takes me to a taxi. I still haven't paid the 1100 Baht, and could have done a runner, but finally I pay him and say good riddance. I probably could have done everything myself and not pay, but it would have took 5 hours, not 3 hours.
What made all this extra hard was that on every Monday (the king was born on a monday) everyone wears yellow shirts to celebrate the Kings 60th year on the throne. So of the several hundred people running around the cargo terminal, there is no way to tell who is official and who is not!
In the end, my 20kgs of books and clothes cost at least $AU230, plus a lot of hassles. Next time, no matter what the cost, I'll post it and get it delivered directly to my room.
Created on Mon, 25 Sep 2006, 8:11pm
Last changed on Thu, 23 Nov 2006, 11:36pm