Aek Pailin River Kwai Hotel
SIIT held their 2006 semi-annual meeting and New Years Party (see photos) at the Aek Pailin River Kwai Hotel (โรงแรม เอกไพลิน รีเวอร์แคว) in Kanchanaburi on 16-17 December 2006. We arrived by bus about 10:30am on Saturday morning, greeted with a welcome drink from the resort staff. As there was another function on the night before, we couldn't check into rooms immediately (we also had meetings that started at 11am).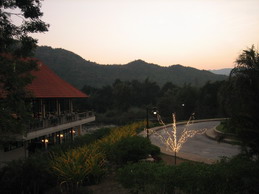 The front area of the hotel/resort is very nice with an open air (but covered) reception and lobby area. There is a bar area with a couple of pool tables, the meeting rooms and function centres, a restaurant overlooking the River Kwai and the main accommodation area.
The rooms are very nice in the hotel – quite big and new. My room had two double size beds and a bathroom with large shower and separate bath. Also had a view over the outside play area and mountain range.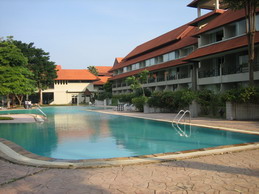 There is a large pool which looks very enticing and has nice views of the river (unfortunately I didn't get a chance to use it – we had meetings all day). Perhaps the only thing lacking was some sun shades and chairs. There is a short walk in front of the hotel by the river, but I'm sure if you have spare time the hotel staff can point you towards other nearby walks (as well as the standard tourist things in Kachanaburi).
Overall, it was a very nice hotel and apparently the price was 1800 Baht per room (although with the large group booking, we got it for 1200 Baht). If that is your price range and you are after a relaxing, quiet area, then this is highly recommended.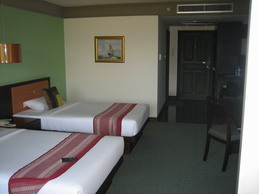 Created on Mon, 18 Dec 2006, 11:08pm
Last changed on Mon, 18 Dec 2006, 11:32pm