Adriatic Palace Hotel
I stayed at the Adriatic Palace Hotel in July 2007 for 1 night. I didn't choose the hotel - we went there for a Last Orientation with ICT Senior students from SIIT (check out some photos - set 1, set 2 - on the SIIT forum).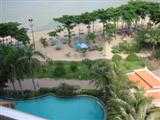 The hotel is about midway between Pattaya and Jomtien. Except for a local convenience store and a few small Thai eateries, there is not much within walking distance (that is, you cannot easily walk to the attractions and nightlife of Pattaya or Jomtien).
My impression of the hotel was of a typical tourist class (3 star) hotel in Thailand. The room, with queen bed, was big (plenty of room around the bed, sufficient wardrobe and drawer space), but the quality of furnishings was average. The wood and carpet were looking old. However everything worked ok.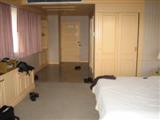 The room I had (on the 8th floor) had a great view of the ocean from inside or on the big balcony, and since it was on the corner of the hotel, there was also a view inland.
The swimming pool was nice, as was the beach. At night, lights are turned on lighting up the beach in front of the hotel. It is a great view.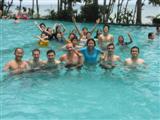 The price I saw for standard rooms was 1700 Baht on Directrooms.com, although I think we paid around 1200 Baht per room. Given the location (not within walking distance of Pattaya or Jomtien) and quality of rooms, I think that the 1200 Baht price is ok. Other places, like the Jomtien Thani, are just as good, if not better, for a similar price.
Overall, an ok hotel for a large group, but you should be able to find better ones if you are travelling as one or two.
Created on Wed, 25 Jul 2007, 5:11pm
Last changed on Mon, 06 Aug 2007, 12:30pm